Teresa Fudenberg, CEO of Storm Creek, the woman-owned, eco-made apparel company based in Eagan, MN is a firm believer that everyone has their own unique talents, and once you determine what those are, it opens the door to finding your purpose. While she wishes she would have figured this out earlier in life, it's clear she's found her purpose now and is making a profound impact. "When I look back on my journey, it's unbelievable that all of my passions and talents ended up colliding at Storm Creek," said Teresa.
On Your Mark, Get Set, Go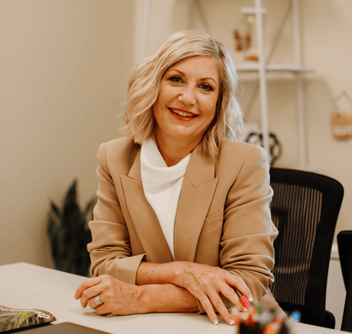 Teresa studied Business and Marketing at St. Cloud State University. By graduation, she was ready to market anything and everything, but had a difficult time finding jobs in marketing. After reaching out to a recruiting firm for help, she ended up landing a job with the firm, Andcor Human Resources, managing their marketing communications.
It was during the Inc. Magazine Conference in New Orleans where an idea would ignite. "Andcor sent me there to learn what made these start-up businesses tick," said Teresa. "I'm thankful for them sending me, but what I really accomplished was outlining a business plan in my head for how I could serve these fast-growth companies with marketing."
This prompted Teresa to start her own company, On Your Mark, at age 26 where she served as an outsourced/fractional CMO for various second-stage entrepreneurs in a range of industries. As her business grew, the services she was able to offer her clients also grew. "It became not so much just marketing," she said. "I ended up being the right-hand confidant and business strategist to many of these visionary founders, helping them take what's in their head and make it reality."
Mom Camp
Teresa's appreciation for the entrepreneurial sector didn't stop with On Your Mark. In 2004, she and a female colleague co-founded Mom Camp, a series of retreats and resources to help busy moms live their best lives. During one to three-day retreats, moms would take much-needed time for themselves to help them recognize their talents and passions and find balance. "We had year-round events, diverse programming from camp counselors, and provided scholarships for those who couldn't pay," said Teresa. With upwards of 800 attendees overall and major sponsors including the Mall of America and Byerly's, it was a huge success. "It was my first major opportunity to do a wonderful thing for women, and it's something I will always cherish."
Amplifying the Storm Creek Brand
A change for Teresa came in 2013, when she would meet her future husband, Doug, owner and founder of Storm Creek. When they met, Doug was making products for large wholesalers for nearly 20 years and had a great brand, but its story was mainly in the hands of those wholesalers. "Doug was a visionary, like all the others I had worked for in the past, with a wonderful idea and business," she said. "But we knew to take the business to the next level, where we saw the potential, we'd need a whole new business model."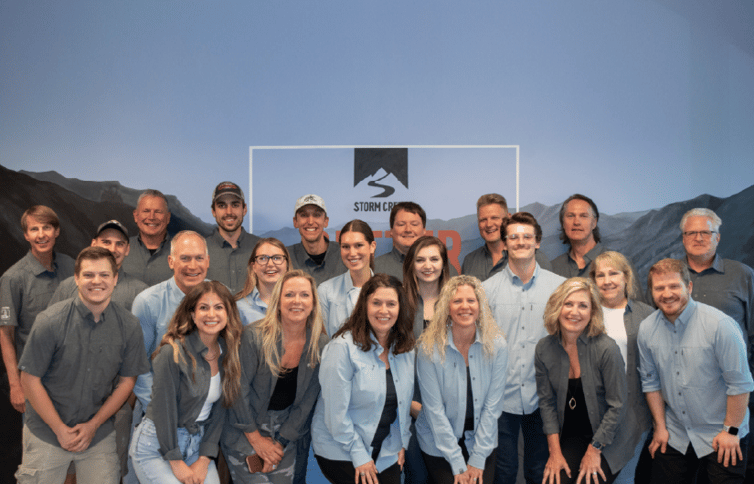 The Storm Creek team, which has grown from just 8 employees to more than 30.
In 2014, the couple did just that—launching TK Trading Co. Inc. dba Storm Creek, with Teresa as majority owner, CEO and brand driver and Doug as the product visionary. The couple took Storm Creek in a new direction, branching out from wholesalers to distributors, specialty retailers, and promotional marketers. Since then, Teresa has made it her mission to transform the company's position in the marketplace and harness the power of apparel to impact the greater good. "Women naturally have different skills, perspectives, and experiences, which is a huge opportunity to solve problems in new and innovative ways," she said.
The Power of EOS
Transforming your business model is no easy task—and Teresa says there was a lot of sweat, blood and tears initially. "Those first three years, we focused on building out the infrastructure, the brand position and a team," she said. "Things were going fairly well, but it felt like we weren't being intentional until we adopted the Entrepreneurial Operating System (EOS)." The EOS framework and practices, laid out in the book Traction, are designed to ensure every member of an organization understands and is committed to helping fulfill the company's mission. "It's such a simple set of tools aimed at businesses our size with tremendous opportunity," she said.
Teresa says EOS was a crowning moment for Storm Creek. Since adopting EOS, Storm Creek built a robust leadership team, defined its core values, solidified 1, 3, and 10-year goals and articulated a clear, concise mission: Better Product for the Greater Good.
The company's ten-year goal is no small feat—Teresa shared that Storm Creek plans to give its 5 millionth dollar to charity in 2030.
Giving back isn't something that's new to Storm Creek—it's woven into the fabric of everything they do. Teresa's passion for fostering partnerships for the betterment of the community is something that's carried over to the Storm Creek brand. To see the many ways the company gives back, check out their Wear for Better initiatives that take the power of apparel sales to drive dollars back into their communities.
As proud members of the 1% for the Planet, donating a portion of their sales to environmental causes, Storm Creek is also dedicated to giving back to the environment through sustainable sourcing practices. Teresa was proud to that to share that Storm Creek recently transitioned their full product line to eco-made, keeping 7.5 million bottles (and counting) from ending up in oceans and landfills. But they're not stopping there—their next step is to ensure everything is eco-friendly including the packaging, shipping and office operations. View their eco-evolution story here.
Teresa's piece advice to women in the business world? "Recognize your unique wiring and talents early on, "she said." "And then be in pursuit of the intersection where your gifts and talents can provide something the world needs—essentially, your purpose—because there is magic when you live daily in the place you are meant to be."
Teresa was thrilled to share that Storm Creek recently received its national certification as a Women's Business Enterprise by the Women's Business Enterprise National Council (WBENC). "Being a WBENC-certified company is a tremendous milestone," she said. "We recognize the commitment to supplier diversity that is embraced by corporations and government agencies today, and we are excited to be able to add diversity to the supply chain with our eco-made apparel."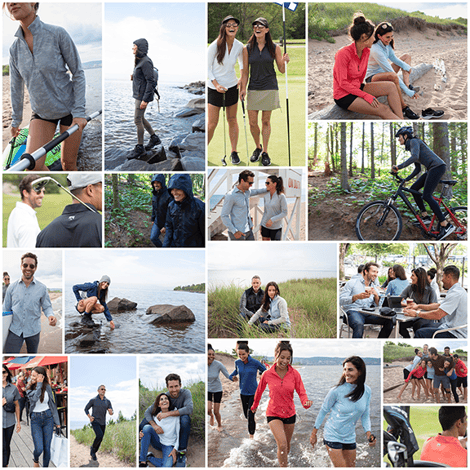 Despite all her success, Teresa says this is just the beginning for her and Storm Creek. With their ten-year goal just nine years away, she says most of her energy will be used to impact the company and mission at a higher level. With Teresa leading the charge, there's no limit on where she'll take them next.
Visit www.stormcreek.com for everything outdoor-inspired apparel and to learn more about their brand and how they give back! Shop their 9th annual warehouse sale through December, while also giving to a good cause—10% of your entire purchase will go to a charity partner of your choice!
Behind every successful businesswoman is her story, and that's what the our Women In Business blog series is all about. View other unique stories in the series using the below links: