With the state fair just around the corner, we're honored to kick-off our Women in Business blog series by featuring Martha Rossini or "Sweet Martha" as most know her.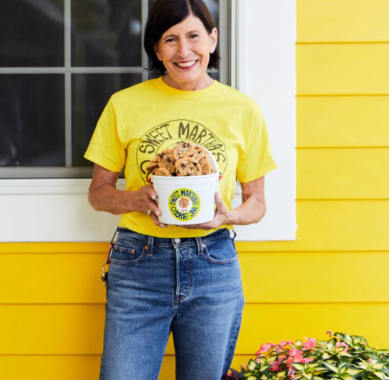 Every August, over a two-week period, hundreds of thousands flock to the cities to attend the Minnesota State Fair known as the Great Minnesota Get-Together. One of the highlights for many in attendance, is getting a cone or bucket of fresh chocolate chip cookies from the iconic Sweet Martha's Cookie Jar booth. You would be hard-pressed to find a Minnesota native who doesn't know about her cookies, or who hasn't waited excitedly in line for their cone at the fair.

Where it all began
What some might not know, is that Sweet Martha's Cookie Jar was initially rejected by the State Fair in 1978. Originally, Martha and her business partners, Gary Olson and Neil O'Leary, applied for a yogurt shop (there was already a yogurt stand at the fair). The following year, Martha and crew applied again, this time for both yogurt AND cookies. Three weeks prior to the fair they were approved for a stand-alone cookie stand. However, there were two minor details the crew was missing: a cookie recipe and a booth to sell out of! Martha got to work collecting, testing, and adjusting the perfect cookie recipe, while Gary and Neil made a homemade cookie booth stand and sourced equipment to rent. The first 12-day fair run was staffed by friends and family who were recruited to make, bake, and serve cookies alongside Martha and the team.
Martha describes the unique ways the crew advertised themselves in the first year of the fair, "We had so much fun. I mean you're working with all of your friends." The team relied on word-of-mouth, sampling and quite literally yelling jingles at those passing by, "Show her you love her, show her you care, buy her some cookies here at the fair!" Being more on the shy side herself, Martha admits she would hide under the counter while shouting the jingles out of booth.
Growing the cookie empire
After their first year at the fair, Martha, Neil and Gary couldn't stop thinking about how to make the business better. Over the years, they fine-tuned the recipe, streamlined their processes, added take-home buckets, built three permanent structures on the fairgrounds, and started selling their frozen cookie dough year-round in grocery stores nationwide.
It's not just a clever name, she really is sweet.
Those who are lucky enough to know Sweet Martha personally will tell you the same thing, it's not just a clever name, she truly is the sweetest. But don't let that sweetness fool you, running a thriving cookie empire is no happy accident. Martha's business-savvy, dedication and hard work are behind the Cookie Jar's success. Since their debut at the State Fair, they've grown to be the fair's top-grossing vendor year-after-year. Sweet Martha's Cookie Jar tops the fair's list with an impressive $4.73 million in revenues in 2019 and daily cookie sales of about 3 million cookies per fair day. Martha will be the first to tell you she couldn't make any of it work without a small army of dedicated and enthusiastic employees.
Shared company values: a commitment to community, quality, and hard work.

As a family-owned and operated business, Martha's children, relatives, family friends and legacy employees make up the roughly 800 employees hired annually. This close-knit group returns every summer to sling cookies and blast music, with many of them dancing their shifts away. One thing is crystal clear, the employees who work for Sweet Martha truly enjoy themselves. It's no doubt hard work, but the time flies by. The perk of free cookies doesn't hurt either!
The next generation of leaders are just as passionate about the cookie business as their parents are. The company's succession plan includes transitioning the Olsons' and O'Learys' (the adult children of the founders) into key roles in the business over the next few years.
See you at the fair!
With restrictions in place for the last year's fair, Martha is ready to be back. "We missed you terribly last year and can't wait for this year. It's going to be the best dang fair we've ever had cause, you know, absence makes the heart grow fonder."
Visit one of Sweet Martha's locations at the fair August 26 through September 6 for your cookie fix. To learn more about Sweet Martha's visit: https://www.sweetmarthas.com/
Watch for more stories highlighting local Women in Business to come in our new blog series.
Last Updated: August 23, 2021