Entrepreneur, business coach, speaker and consultant, Sandy Hansen-Wolff, didn't expect to be any of those things when she began her career journey. She knows more than most about life throwing curveballs. "I really feel like every experience we have provides a toolkit for the next step in your life," she said. Her inspiring story is the epitome of just that.
Sandy studied Community Development and Human Relations at St. Cloud State University. Her first job was in community housing development working as an intern for a nonprofit. As a shy college kid, Sandy was thrust into speaking at county commissioner meetings and facilitating community leadership groups in front of large groups of people. "I was doing that more so because there just wasn't staff to do it, but it was an invaluable experience," she said.
After reaching a point of burn-out, Sandy moved into a new role as an insurance agent. It was during that time that she'd meet her first husband, Randy, who owned AgVenture Feed & Seed Inc. in Watkins, MN. A month before their wedding, Randy was diagnosed with Leukemia. "We weren't even sure we'd make it to the wedding because he was doing in-patient treatment," she said. However, he went into remission and went back to work while undergoing chemo treatments. Almost a year after he was first diagnosed, the cancer came back, and he'd undergo a bone-marrow transplant which left him in the hospital for two months, while Sandy stuck by his side. After being released from the hospital on Christmas Day, Randy tragically passed away in January 2003 due to complication from pneumonia, leaving the agri-business company to Sandy.
Just a few days after his funeral, Sandy discovered that AgVenture was experiencing extreme financial stress; the farming economy wasn't doing well at the time and Randy had recently bought out his former partner, leaving the company with debt. Overwhelmed and left with the responsibility of running a financially challenged business in a male-dominated industry, Sandy was at a loss. "It was like the perfect ugly storm of, I'm 30 years old, my husband of 15 months just passed away, and now I have the responsibilities of his business, there was no life insurance to cover the loans, and everyone is looking at me," she said. "I had no idea what to do. Randy was a great businessman, but unfortunately, like many entrepreneurs, had a lot of the business information in his head and few written processes. The dedication of great employees, customers and the community were our threads of hope."
Knowing she couldn't sell the business, which was the couple's initial plan had something happened to Randy, Sandy's only option was to run it. "It took a lot of hard conversations and me standing my ground when the chips were stacked against me," she said. With the support of her employees and customers, she would go on to learn the business, their products, and financial best practices. Due to her tenacity and determination, Sandy and her team took the company from near bankruptcy into a thriving, profitable business. In December 2020, after nearly two decades of leading and owning the business, Sandy successfully transitioned AgVenture to new ownership, which undoubtedly was bittersweet.
A Pact Turns into a Passionate Career
"One pact that Randy and I made is that we were ever asked to share our story, we would."
When Randy was sick in the hospital, the couple made a pact that if anyone asked, they would share their story. "Really, it was because we wished someone else had shared their story when we were going through that difficult time," she said. After Randy's passing, Sandy kept that promise.
What initially started as her speaking about their cancer journey, grieving and overcoming tragedy at events like Relay for Life, eventually turned into speaking about crisis leadership and business strategy at business and entrepreneur circuits during the 2008 financial crisis. The interest grew from there, and soon, companies began asking her for advice on how to turn their business' around. All this eventually led to her starting her own consulting, coaching, and speaking business in 2008, working with leaders and business owners to create and execute high-level strategy and aligned actions.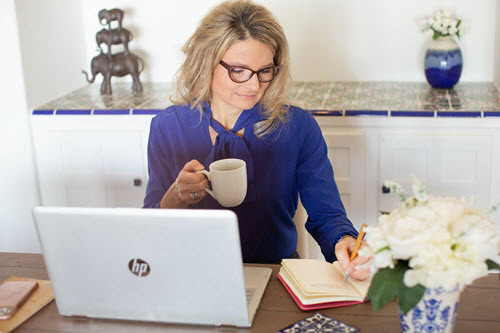 From Mentee to Mentor
As she pushed through those difficult times at AgVenture there were several influences who stick out to her. The first was her accountant at the time, who would meet with her monthly to discuss business and finances, but also pushed her to shift her mindset from 'what it would be like if the business failed' to 'what would success look like.' For her, that mindset shift was a gamechanger. Sandy also hired a business coach when she was able to afford it and says she's worked with one ever since. Along with the support from her coach, she joined mastermind peer groups, getting advice, perspectives, and support from other leaders in the industry.
Reflecting on what she'd do different if she could go back in time, for Sandy, it's clear. "The times I've failed miserably were the times I didn't trust my intuition," she said. "The business goals made sense and the logic was there, but my intuition said something was off." Today, she's taken what she's learned from those failures and shares how leading with intuition can be a gamechanger for leaders, teams, and businesses. Sandy says there's nothing more rewarding than helping her clients navigate transitions, release overwhelm, and take action to grow their impact and income with more freedom, flexibility, and meaning. Sandy offers a variety of coaching and consulting options, including mastermind group coaching and 1:1 coaching, while continuing to do speaking engagements, retreats, and workshops.
What's Next
Being the go-getter she is, Sandy launched an e-Commerce and distributed specialty feed company, New Heritage Feed Co., in 2018 which focuses on the inclusion of premium essential oils and nutrient enhanced additives for animal food. Her near-term goal is to find strategic investors, so she can transition to more of an ambassador, founder and speaker role, lightening her schedule a bit. With more time, Sandy hopes to start more mastermind peer groups, including internally in larger companies. "I really want to work with businesses on aligning intuition, passion, and their voice into their goals. Because I think many times, those things are disconnected," she said. "If we can match business goals with 'does this intuitively feel right?', everyone's in alignment and those goals get accomplished even faster."
With the world opening back up, her speaking opportunities are coming back, and she says hopes to bring this intuitive strategy blueprint to more stages and businesses. One gets the sense that, with her energy and outlook, bigger things are coming for Sandy.
As a business visionary and consultant, Sandy's an expert in partnering with businesses and teams to work through any issues or brainstorm an action plan for reaching that next goal. Visit her website for more information on her coaching, training and speaking engagements!
Behind every successful businesswoman is her story, and that's what the our Women In Business blog series is all about. View other unique stories in the series using the below links: