Suzanne Sotelo, owner of Gallery 77, a countertop design, fabrication, and installation company in Hudson, WI, says it was in the sixth grade where she was stage manager in a play, that she knew theatre was always going to be part of her life. "I sort of envisioned myself being a technical person on Broadway," she said. However, New York meant snow—and she was applying to colleges outside of the snowbelt to escape the cold—so she ended up attending Occidental College in California, with an emphasis in Theatre Design.
Lights, Camera, Action
While she envisioned working in theatre, Suzanne's path led her to the television industry after graduating, where she'd remain for 25 years, working in studio lighting design. During that time, she worked on a variety of television shows, primary live television, including America's Got Talent, American Idol, Dancing with the Stars, and other shows that were high-profile, large-scale lighting and scenic production. Her time in the industry was successful to say the least, as she'd go on to be a two-time Emmy Award Winner for her work on Dancing with the Stars, a show she worked on for nearly 14 years (equating to 27 seasons).
While she loved many aspects of the television industry, for her, it wasn't as glamorous as some may think. "About six years ago, I realized I really didn't enjoy what I was doing anymore, from the standpoint that T.V. is a tough business to be in" said Suzanne.
"The egos and politics were never something I enjoyed. I loved the art of it, and the thrill of being in a live show, but I never felt in control of my own destiny."
Suzanne says that didn't matter how successful she was, she always knew she could be fired 'just because'. That unpredictability was something she didn't mind as much in her younger days, but as she grew older, she wanted more stability and control in her life. "The television industry is extremely unforgiving, and as much as they say 'family-first,' it was always 'show-first.'"
With aging parents in Wisconsin who she wasn't able to visit as much as she'd like, along issues she was having with her kids' school system, Suzanne and her husband, Pablo, made the decision to move back to the Midwest. After doing their research, the couple decided on the Stillwater/Hudson area. "And I said, let's go!"
They didn't have a solidified plan on what they might do for work when they moved, but they we're confident the timing was right. "We knew we were smart enough to figure something out," she said. While they were determining what that was, Suzanne would travel back to California every week back to work on a T.V. show, while Pablo stayed busy doing freelance contracting work.
Disappointing Experience Sparks an Idea
It was during a unique experience while trying to help Suzanne's mother, who was wanting to redo her kitchen, that the initial idea of starting their own custom fabrication business came to fruition.
"We had such a challenging experience trying to find a company who offered good customer service, produced a high-quality product, who didn't have a ton of hoops to jump through, and who actually felt like they cared about the project."
It was an "ah-ha" moment for the couple. "We said, wow, if this is what's out there and available, we know we can do better," said Suzanne. Drawing on Pablo's fabrication and installation experience, and Suzanne's design background, the couple began conceptualizing what would eventually become Gallery 77.
At the time, outside of managing the finances at Pablo's small independent business, Suzanne didn't have much business experience. However, she had the tenacity to learn, and began scouting out other shops, learning about stone, and researching how to pull a business plan together. "Putting together an actual business that required funding was a completely new concept for me," said Suzanne. Fortunately, she came across the Small Business Development Center (SBDC) at the University of Wisconsin-River Falls, which served as an important resource for the couple. They utilized the SBDC's No Cost Business Consulting to define goals and a vision, and also enrolled in the SBDC's 10-week Entrepreneurial Training Program, where they developed business plan to strategically guide them forward.
Gallery 77 officially opened in September 2018 in Hudson, WI, where Suzanne and Pablo—and two additional full-time employees—create stone and tile designs for all areas of the home, including the kitchen, bath, entry, fireplace and outdoor kitchen and BBQ areas. Their current operations include a showroom, warehouse, and adjacent production facility where material is cut using in state-of-the-art equipment. Just a year after opening, Gallery 77 was named the St. Croix Economic Development Corporations Emerging Business of the Year. "We were very honored," she said.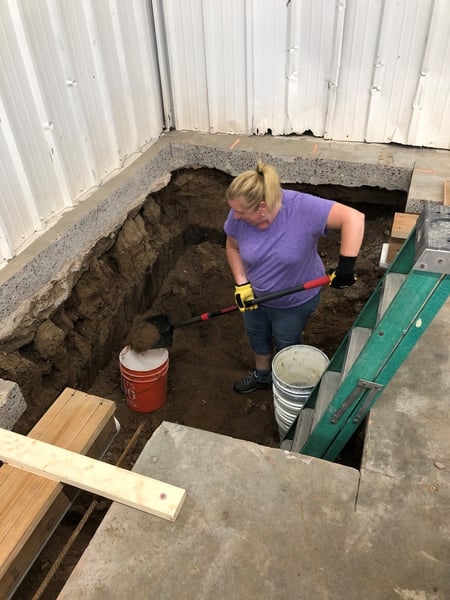 The pair balances out the duties of the business, with Suzanne managing all the business aspects of the company, including finances, sales and marketing, customer service, and creating the actual designs where she utilizes her art background. Pablo does all the backend duties, including physical measuring, cutting and loading, template taking, interactions with the clients in their homes, and installation.
For Suzanne, the most challenging part of being a small business owner is juggling all her work duties while also providing best-in-class service to her clients. Along with that, she said it's also been a struggle to find additional help with the labor shortage in the trade industry. However, having the autonomy and flexibility to leave to take care of the needs of her family without feeling guilty makes it all worth it to her.
Photo: Suzanne digging the water filtration pit in their shop, by hand.
Suzanne doesn't envision ever expanding Gallery 77 into a multi-location conglomerate, but you can never say never. "We created a small-scale business, with priority to our clients and ourselves, and we're content with what we've got." she said. "So, today, that's not in the plan, but you never know what the future holds."
Believing in yourself
Suzanne says the best piece of advice she would give women thinking of starting their own business or making a career shift is to believe in yourself and your skills, but also know your limitations without letting them get in your way of success. "That was a bit of a learning curve on my part," she said. "I was scared to leave California and uproot my family without a plan, but I had to have faith in myself that we were going to figure it out." She also says making connections and networking is so important—even if it doesn't come natural to you. "You never know who you're talking to and who might lead to a new, golden opportunity."
If you're thinking about transforming your kitchen, bathroom, entryway, fireplace, outdoor kitchen, or barbecue area with a gorgeous new countertop, check out Gallery 77's website and read all of their raving reviews. Contact Suzanne by phone or email to learn how easy it is to get the new tile, stone, or engineered quartz countertop you've been wanting!
Behind every successful businesswoman is her story, and that's what the our Women In Business blog series is all about. View other unique stories in the series using the below links: