Erin Lucas will be the first to tell you that food has always been part of her DNA. As co-owner of Krewe Restaurant and Flour & Flower Bakery—both located in St. Joseph, MN—cooking has been part of her life since a young age. "My parents always say they'd never seen a six-year-old that worked a buffet quite like I did."
It's no surprise that Erin, who was raised in Minnesota, ended up going to culinary school in New York right out of college, came back home and went right into the industry. She started as a server to get her feet on the ground, and a few months later, she was in the kitchen. While working in the restaurant industry in the Twin Cities, Erin met her partner, Mateo Mackabee, who shared the same passions and dreams. One of Erin's visions was to open her own bakery, which stemmed from her love of baked goods and a book she read as a kid about flowers' ability to manipulate one's behavior. At the time, she wasn't sure how she'd make it happen. "Then I met Mateo, and he told me about his dreams, and I thought, we could build our dreams together."
After a few years of working in the Twin Cities, in 2017, Erin and Mateo had the opportunity to move out to rural Minnesota an open their first restaurant, Model Citizen, a farm-to-table venture in New London, MN, as well as Model Citizen, Inc., a nonprofit that aims to expose school-age children to the lifecycle of food.
It was at the Model Citizen Restaurant that Erin was finally able to showcase her love for pie. For her, pie is more than just a delicious treat, it's sentimental.
"My grandmother, who lived in Omaha, Nebraska, would serve us pie for breakfast," she said. Pie was always in the fridge or on the counter when we visited, so I always think of her while I'm making pie."
It didn't take long for Erin to be deemed New London's 'Young Pie Lady', creating hundreds of homemade pies each week.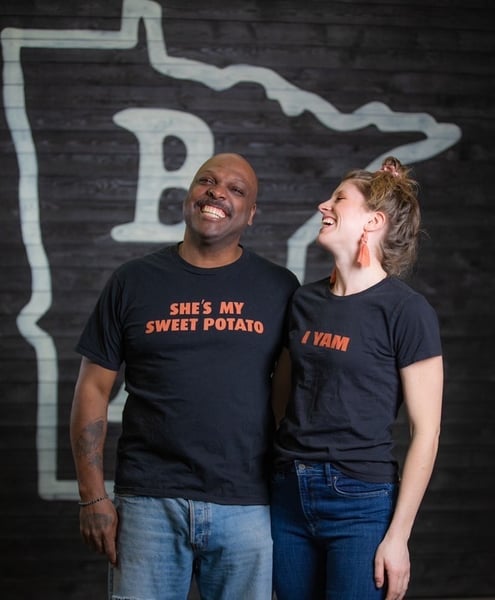 Shortly after opening Model Citizen, a property owner in St. Joseph, MN, who had heard about the delicious Jambalaya on the menu, reached to Erin and Mateo about a new venture. "He'd always wanted to have a New Orleans' style restaurant in his building, and reached out to us wanting to meet us and have a conversation." When they finally got in touch, he pitched the idea of them opening a restaurant inside his building. "At the time, I was like, 'heck no!' we just moved out to rural Minnesota six months ago, and opened up Model Citizen three months ago," she said. After a bit of convincing from Mateo, they decided to have the discussion. And after numerous conversations, they decided to go for it. In 2020, the pair closed Model Citizen and moved to St. Joseph to start their new journey.
Bakery & Blooms
While the initial plans were to just open the restaurant, the empty, small cottage-style building behind the restaurant sparked an idea for a bakery—giving Erin the opportunity to live out her childhood dream. In May 2020, during the midst of the pandemic, Erin and Mateo opened both Krewe Restaurant and Flour & Flower Bakery.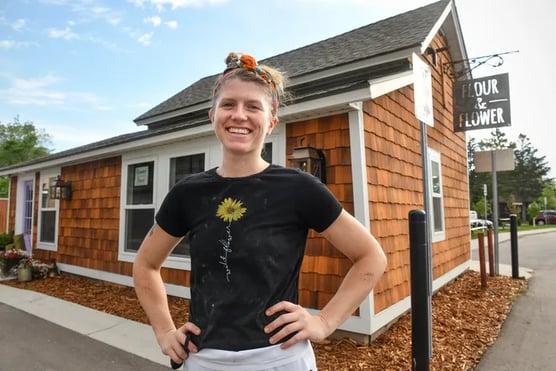 While Erin helps Mateo at the Krewe Restaurant, most of her time is spent at the bakery. "I basically live here," she said.
She's not exaggerating either—most days, she gets to the bakery by 1 a.m. to begin baking her masterpieces from scratch, which include turnovers, croissants, artisan breads, pies, along with a rotating lunch menu for takeout. And what pairs better with coffee and fresh baked goods? Flowers. As the name insinuates, Erin also sells locally sourced bouquets of fresh-cut flowers year-round, adding that paired with coffee and fresh baked goods, it's her three favorite things. "There's no better smell to wake up to each morning."
COVID-19's Impact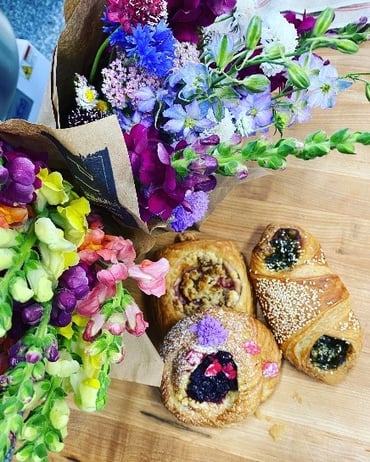 Flour & Flower was designed as a grab-n-go business, so Erin's thankful its business model didn't require much adjusting to accommodate COVID-19 rules. However, the pandemic did have an impact on Krewe, which opened initially as take-out only, and then was shut down over the winter due to restrictions, but she says the bakery carried them through it. "For the amount of Thanksgiving and Christmas pies we did, it carried the restaurant through the shut-down." Since then, both Krewe and Flour and Flower have been a huge hit in the area. "The response has just been insane," she said. "We pinched ourselves every day."
What's Next?
Opportunity seems to follow Erin and Mateo, and as you could guess, they aren't done just yet. In August, the duo closed on Event Center in Spicer, MN that mainly used as a wedding venue. The plan for the 20 acres space is to continue to use it as a wedding and event venue—where they can bolster their catering skills—but it will also serve as a seasonal wine and craft beer bar with good eats. While the event center is currently open, they plan to give the space a minor facelift soon, with an officially grand opening likely to occur in spring of 2022.
The pair also continues to work on their nonprofit, Model Citizen Inc., dedicated to bringing kids out to the country to teach them how food is grown and cooked, giving them the opportunity to experience the growing process from start to finish. They hope to for a pilot group of students this spring, COVID-permitting.
As Erin reflects back on her journey, she says a piece of advice her grandfather gave her—'Illegitimi non carborundum', which translates to 'don't let the buttheads get you down' –has stuck with her through many instances.
"It's just so true," she said. "You can't let the little things trip you up, because there's so many big things ahead of you that make it all worth it." Erin says if she had the opportunity to anything differently, she wouldn't change a thing. "All of the hard things I've gone through, I needed to go through to grow."
Visit Erin at 26 College Ave N in St. Joseph and pick up one of her delicious baked goods at Flour and Flower in St. Joseph. While you're there, stop by Krewe Restaurant for a taste of New Orleans.
Behind every successful businesswoman is her story, and that's what the our Women In Business blog series is all about. View other unique stories in the series using the below links: