We've all heard the saying, "There's no such thing as the perfect opportunity." For Kelsey Schultz, owner of KPower Yoga Studio and two Anytime Fitness locations, this mantra has rung true throughout her career journey.
Kelsey began her career in higher education, working in the study abroad field. While she enjoyed her job, she reached a turning point in her path when her husband, John, was looking to get out of corporate America and be his own boss. The couple took the opportunity to reflect on what that could look like and their options. With their shared passion for fitness, the duo decided to purchase their first Anytime Fitness club, located in Eagan, MN, in 2013.
"For us, stepping into the world of entrepreneurship and small business was a huge learning experience."
A year after purchasing the Eagan club, Kelsey and John decided to purchase a second club in Minneapolis, MN a year later, followed by a third club in Eden Prairie, MN. With three clubs now under their ownership, Kelsey—who was still working 30-hours a week as the Assistant Director of Study Abroad—began to take more of an active role in running the businesses. It didn't take long before she realized how much she enjoyed it, and decided to fully jump in. "The thing I've noticed about myself is that I never wait for the perfect moment," said Kelsey. "I jumped out of my career to start running a fitness business when I had never actually purchased a gym membership myself."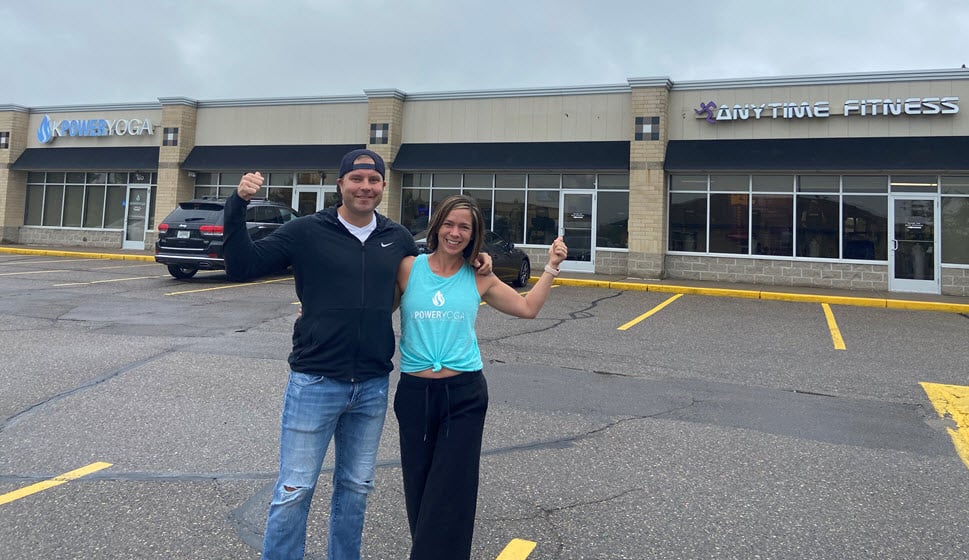 Kelsey and John in front of Anytime Fitness and KPower Yoga in Sartell, MN.
A change in location opens the door to something new
With the three locations running smoothly, Kelsey and John began thinking about their future. "We knew we wanted to live on the water, so we started putting a plan together." That led them to Richmond, MN, after selling two of their clubs in the Twin Cities and buying the Sauk Rapids Anytime Fitness club. Shortly after, they sold their last location in the Twin Cities, and started building a new Anytime in Sartell, MN. It was while they were building the Sartell club, where Kelsey—a long-time yoga student— saw yet another "imperfect" opportunity. A strong believer in the impact Yoga can have on the mind and body herself, she knew she had a real opportunity to share these powerful practices with others in the area.
With the extra 1,000 sq. ft. that was available at their new Anytime location, Kelsey opened KPower Yoga, a hot yoga studio. "I was not a Yoga Instructor, and I didn't have any experience teaching Yoga," said Kelsey. "But I just knew I needed Yoga and I wanted other people in this area to be able to have the opportunity to experience that as well." Once they committed to building the studio, Kelsey went through training to become an Instructor and taught her first class, in her new studio, for the first time in 2019.
Growing her passion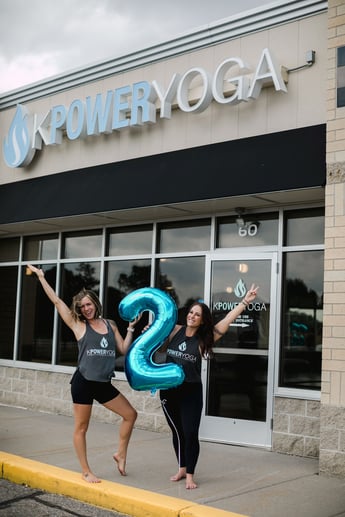 Over the last couple of years, John has stepped away from the operations side of the businesses and Kelsey's taken the lead of running both the Anytime and KPower Yoga. For her, the power of having a great team in place means everything. Between both businesses, they have a team of 19 employees, who she says she's thankful for every day. "We are so lucky right now that we not only have a full staff, but that they're such an awesome team." Because of that, Kelsey's been able to focus on her plans for growing KPower Yoga. Apart from working on plans to expand to a bigger location, she's also been expanding their offerings to include Yoga Retreats, giving members the opportunity to relax and refocus in a in a variety of group settings. Last December, Kelsey planned and organized her first-ever Yoga Retreat in Florida, without ever going to a Yoga Retreat before. Because of its success, she plans to continue adding more retreats to her schedule.


COVID Challenges
Like many small businesses, COVID-19 brought its own set of challenges for the fitness industry. "It was really difficult," said Kelsey. "We're not very diversified right now, we're 100 percent in the fitness business—so it hit us really hard." Despite the difficulties of the past year Kelsey remains optimistic,
"For many of us, COVID-19 reinforced the significance that health and wellness play in our everyday life."
People are going back to the gym even more reenergized, ready to focus on their health. Because of that, both Anytime and KPower Yoga have come back stronger than ever.
Her advice? Don't wait for the perfect opportunity.
What Kelsey has learned most from her experience is the importance of finding the confidence to be ready now, because the perfect opportunity usually doesn't exist. "I think we tend to want to have all of our ducks in a row before wanting to commit to anything—whether it's starting your own business or committing to a job opportunity". Most of the time, that doesn't happen—so sometimes, you need to just jump in.
Kelsey's go-for-it mentality has played an invaluable role in her success leading a business where she can share her passion for Yoga with others. For her, the most rewarding part is seeing and hearing the success stories of her members. "That feeling goes a long way."
Go visit Kelsey at KPower Yoga and push yourself to new limits by working your body and your mind! For more information, including class schedules, visit https://kpoweryogastudio.com/. For more information on Kelsey and John's Anytime fitness locations, click here for Sartell or here for Sauk Rapids.