We recently sat down with Alexis Walsko, founder and owner of the Minneapolis-based Digital PR agency Lola Red to hear how she built her thriving woman-owned business. The founder and PR guru shared with us that she knew from a very young age, she was destined to be a businesswoman. "I remember asking my dad when they were buying a new house if they could build me a little shed where I could sell my friend's artwork," she reflected. Fast forward to age 22, and Alexis would establish what now has become an award-winning, nationally recognized PR firm.
The Making of Lola Red
Alexis studied at the University of Colorado, Boulder where she majored in Marketing and Entrepreneurship. During her collegial years, she landed an internship in the beauty care industry. This opportunity is what eventually launched her marketing and PR career into success "When I showed up, they didn't need the things that I knew how to do, which was write a business plan and marketing plan," she said. "Instead, they wanted to get these beauty care products into national magazines." After some trial and error, doing her research on how to write a press release and figuring out the right contacts to send the products to, Alexis got the small Colorado-based company published in major national magazines like Cosmo, Glamour, Vogue and Forbes.
After graduation, she worked for an ad agency for about six months—a place she wasn't fond of— while still doing side jobs when she could in her true passion, PR. When news came that the agency had lost one of its top clients and they'd have to do layoffs, Alexis volunteered herself, hoping she'd get a good chunk of severance pay. "Of course, I didn't," she said. "But I think I got $1,200 and with that money, I decided to venture off on my own, starting Lola Red two weeks later." And two weeks after that, she had her first client.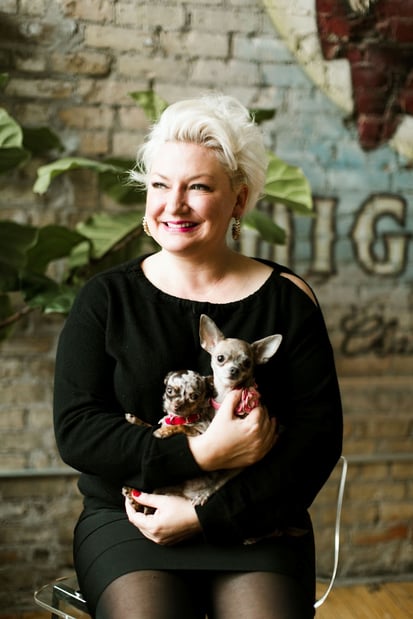 Word quickly spread in the Boulder business community (undoubtedly due to Alexis' PR prowess) that if you were looking for someone who could get your brand featured in national publications, Alexis was the woman up to the task. "Then, news began to spread outside of Boulder, so I got myself an 1-800-number, a website, and an email address, and that's how I got into business."
As a businesswoman, Alexis made a big impression in the PR industry early on. After the company's initial launch, Women's Wear Daily—referred to by many in the industry as the "Bible of fashion"—named Lola Red one of the Top 50 PR Firms in the nation. "Which, at that time, I wasn't technically a firm; it was just me in a bathrobe," she remarks.
Eventually, she found her way back home to Minnesota, where she's become a fixture in the PR world, with clients all over the nation. What started as a solopreneur has now become a dynamic team of 16 passionate PR and media pros, dedicated to amplifying greatness for their brands.
The PR Goddess' Advice for Growth
Alexis learned early on in her career the important of figuring out what the best use of her time was.
"So, for me, it takes about eight hours to write a press release. For someone who's skilled in that area, it usually takes about 45 minutes," she said. She's assembled her team with that in mind, surrounding herself with people who have complimentary skills and abilities to make a difference and best serve her clients. "And that's how I've built this company."
In 2015, Alexis launched Lola Pro, a division representing professional athletes including Xavier Rhodes, Everson Griffin and Kyle Rudolph. Utilizing Lola Red's PR and marketing experience as well as relationships with national brands and media, Lola Pro amplifies athlete's time in the spotlight through integrated brand partnerships, media relations, community relations and social/digital strategies.
Leap and the net will appear.
A dear friend Eric Perkins (former Sports Director and Anchor at Kare 11) shared a mantra with Alexis early on in her journey that she would never forget. The advice he shared reads
"Leap and the net will appear."
"I cut out that little piece of paper and had it taped on my desk for probably five years, and it is what guides basically every single thing that I do."
As she reflects on how she got to where she is today, Alexis says there's a few things she would tell her younger self. "I would tell her to value yourself the most. Treat yourself with respect—always, and especially in front of others. Have boundaries. Trust your gut, and don't worry about being liked—even though I still worry about it and wish I didn't," she said. "Pay yourself the most, always. And finally, don't apologize (unless you really messed up)."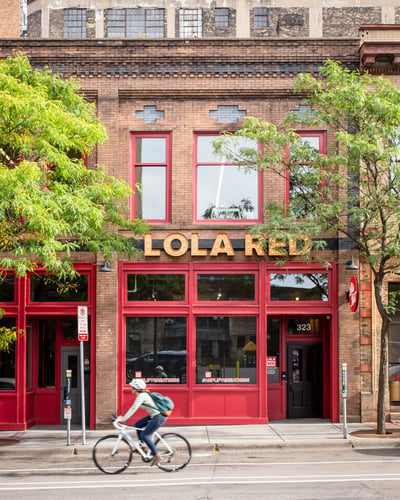 What's Next
As a new mom of twins, and business owner, Alexis has no plans of slowing down. While she's still navigating how being a working mom might change her outlook, she's already noticed she's bringing a softer lens to her approach. She'll be the first to tell you how much she hates the word 'no.' "I hate to hear it and I hate to say it," she said. "And in the past, if there was a work opportunity, I would move everything around in my personal life to serve the request." Since having twins, she doesn't have a problem setting up boundaries and prioritizing her personal life over business. "I've also learned that I can consume a lot of coffee without ever feeling it."
Throughout her career, professional accolades have poured in recognizing her success. Alexis has received numerous accolades, including both a "Women in Business" and "40 under 40" award recipient from Biz Journals, and "Young Entrepreneur" and "Founder of the Year" award from the National Association of Women Business Owners (NAWBO). In addition, she's also recognized as one of the top 500 business people in the Twin Cities.
On the future of her business, "I'd like to grow the professional athlete business and become a leader in that space," she said. She also plans to build out the Lola Red brand, which encompasses their PR and Marketing work, but she'd love to evolve that into additional products and services. Finally, she wants to figure out a way to invest in and support more solutions-based businesses similar to Lola Red's business model. As an entrepreneur and trailblazer in her industry, there's no telling what she's capable of in the future.
Follow along by visiting Lola Red's website to inquire, learn more, or read some of the amazing client case studies.
Behind every successful businesswoman is her story, and that's what the our Women In Business blog series is all about. View other unique stories in the series using the below links: