There's a saying that one decision can change your life forever. Joelene Calvert, CEO and Owner of two FASTSIGNS franchise locations, says that's why—big or small—each decision you make has to be a smart one. "I think in a matter of two minutes of trying to solve a problem, I've run through 15 scenarios in my head." she said. In speaking with her, it's clear that her ability to adapt and problem-solve, coupled with her positive attitude during the most challenging times, play a huge part in her success.
Her Journey: From Graphic Designer to Owner
Joelene joined FASTSIGNS, a custom signs and graphic solutions company, right out of college in 2002 as a graphic designer at their Bloomington, MN franchise. A year later, she moved to the Brooklyn Center, MN franchise, where the owner at the time began to mentor her on the business-side of things and encouraged her to buy the location when he eventually retired.
And eventually, she did. After two years of essentially running the location when the owner moved out of state, she and her husband, Chris, purchased FASTSIGNS of Brooklyn Center in 2011. "That two years of being 'acting owner' before we actually bought the location was a great steppingstone and learning experience for me."
Growing up in a family of entrepreneurs, including her grandfather who owned his own business, Joelene knew at a young age that she wanted to own her own business one day. Her biggest fear of going into design work was having to be stuck behind a desk all day. Luckily for her, FASTSIGNS fed her active personality and need for variety by offering a perfect mix of designing, working with clients, and being on the production floor. "I just fell in love with what FASTSIGNS was and the job itself."
As the new owner, Joelene spent a majority of her time putting a solid foundation in place internally, but also focused on the future. "Once I became the owner, I immediately began thinking about how to grow the business," she said. "I was focused on getting to a point where I was growing the business and not spending 70-80 hours a week working." She says she feels fortunate to have had the FASTSIGNS network, where she has been able to lean on other franchisee's knowledge and expertise along the way.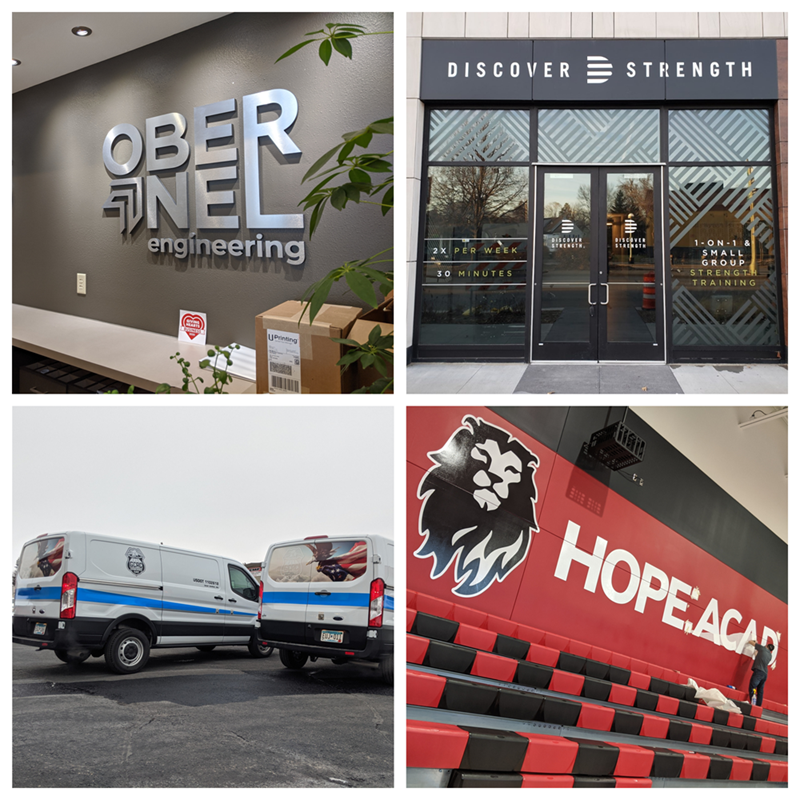 A few of the FASTSIGNS projects.
To grow the business, Joelene spent a majority of her time as the driving force of outside sales initially—which she says pushed her out of her comfort zone but was a vital step in learning the business. "I had the experience as a production and operations manager, I had the experience of being a CEO-type role, but that gap in the middle was sales," she said. "In order to hire and replace myself in that position, so I could focus on being CEO, I needed to learn the ins and outs of that role."
Eventually in 2016, she hired an outside sales professional, which was an important step for growing the business. Roughly six months later, Joelene added a second location to her franchise and purchased the FASTSIGNS of St. Cloud, MN.
Pushing Through a Challenging Year
As she reflects back on her journey, 2016 was a challenging, to say the least. In February, Joelene and Chris were attending the FASTSIGNS International Convention in Orlando, FL, when they received a phone call that no one hopes to get—their house had been destroyed in a fire. After talking with their children, Joelene and Chris made the decision to stay for the remainder of the convention. "We went down there to do things for our business, and us going home wasn't going to change anything, other than if our kids wanted us home, and they were fine with us staying." she said. It was when they returned home that everything became chaotic. On top of having to deal with the fire claim and working on getting things rebuilt, they were trying to figure out living situations, while running the business. "It was a full-time job in itself." The second half of the year brought additional struggles for her business with turnover in her staff.
Through it all, she never let her setbacks demoralize her, and remained focused on moving forward by using her innate problem-solving skills to push through.
"Things are going to happen—good and bad. It's part of life whether you own a business or not," she said. "Once I understood that, I better understood how my perspective and having a positive outlook makes a difference—it helps provide clarity on priorities."
Leading with Heart
For Joelene, the most challenging part of being a business owner is having to balance wearing so many hats, while ultimately being the final decision maker in the end. "If your heart is truly in it to be a good leader for your team and also run a successful business, I believe it makes it exceptionally harder, because you try to be perfect in every aspect and it's exhausting."
However, seeing her team succeed and getting to celebrate their wins together makes it all worth it. "Just knowing that you played a part in coaching them to be where they are, and seeing them succeed in their goals, is definitely the best part."
What's Next?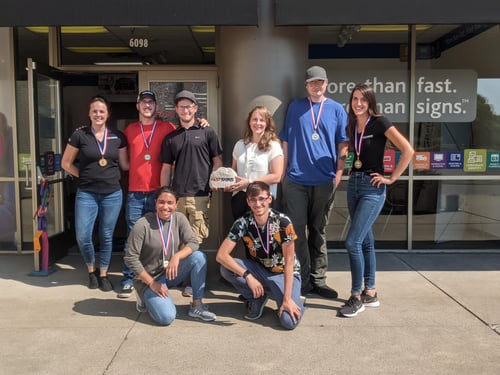 The FASTSIGNS team has outgrown their Brooklyn Center location, and just closed on a commercial building in the Osseo-Maple Grove area. Joelene says the plan is to move in by December 2021 and the team is looking forward to the new space. "We've been holding out on buying new equipment and using certain capabilities that we could be using by now, had we head the space," she said. "The building is double the square feet, so this will definitely take our business to the next level."
Joelene says her advice to anyone thinking about becoming a business owner or entrepreneur is to believe in yourself. "My old boss used to tell me, if that person can do it, YOU can do it," she said. "Where there's a will, there's a way, and if your heart is in in it, you can truly do anything you set your mind to."
Call or stop-in to one of Joelene and the rest of the FASTSIGNS team in St. Cloud or Brooklyn Center for all of your signage needs—including building signage, interior décor, vehicle/fleet graphics, exhibit/displays, and MORE!
Behind every successful businesswoman is her story, and that's what the our Women In Business blog series is all about. View other unique stories in the series using the below links: