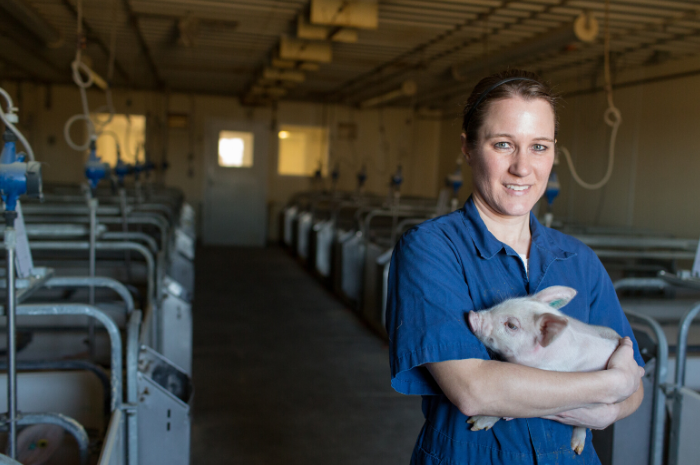 Sarah Schieck Boelke can tell you a thing or two about raising pigs.
She grew up taking care of them. When her father began working longer hours at the school as a substitute teacher, she and her brother stepped up to help with the family pig operation. When they came home from school, the first thing they did was head to the barn to feed them.
She'll readily say those hours she put in at the barn helped her develop a passion for raising and caring for pigs.
She liked the pigs themselves and their curious, likable personalities. She loved solving problems. She also enjoyed being a part of the "farrow to finish" cycle, which brings the pigs from birth to slaughter weight.
That came to a halt during her sophomore year in high school when her parents discontinued the pig operation on the family farm northwest of Willmar, Minnesota.
She was devastated. But that didn't end Boelke's involvement with pigs.
In fact, today she plays a significant role in the work of Minnesota pig farmers. She's one of two swine educators at University of Minnesota Extension, and she couldn't be happier.
"I get to work within the pork industry; it's the industry I grew up with, and I'm passionate about it," she says. "Also, there never are two days that are exactly the same. There's a mix of office work, getting to travel to farms, or giving workshops to the farmers. It always has the variety I like."
Finding her true path
How did Boelke manage to stay on this path that led to the thing she likes most?
You might say things had a way of working out.
After her father returned to full-time teaching, he decided to get out of the pig business. But it wasn't long before Boelke and her brother had pigs back in the barn, because pigs were central to their 4H and FFA projects. In fact, they bought eight pregnant sows from a neighbor, who had recently accepted them in place of payment for some feed he had sold another producer. Not long after, their little operation expanded to 30 sows, and they kept it going for nine years — selling off the pigs midway through her time at graduate school.
She began her college studies with ambitions to become a veterinarian — not unlike others who grow up working with animals and have a desire to move on, she notes. When she wasn't accepted into an in-state vet school, her adviser urged her to pursue graduate studies. And she did. She graduated with a master's in animal science, with an emphasis on swine nutrition.
Following graduation, she landed a post teaching in beef and swine management, animal science and more at Ridgewater Community College, which she thoroughly enjoyed. In 2013, the same adviser who encouraged her to apply to grad school resurfaced to alert her of another opportunity. University of Minnesota Extension had created a second swine educator position, and he thought she'd be perfect for the role. She applied, and that's what she's been doing since 2013.
Landing her role
The philosophy behind the extension program is to make university resources available to those who can use them. Boelke conveys that research-based information to pig farmers and other professionals in the pork industry, so they can make the best possible decisions for their operations.
The bread and butter of her role is leading classes and workshops to help farmers and others in the pork industry get certified. As an example, her Pork Quality Assurance® classes focus on everyday farm operations and maintaining best practices, from accurately dispensing and documenting medication to adopting the best handling methods for different sized pigs to best practices in sheltering.
Sometimes, if farmers are facing a specific issue, she looks for answers to bring to them. For example, a few years ago, packers began to increase the number of randomly chosen on-farm audits. That not only meant more physical inspections, it also sent farmers into a flurry of activity, hunting and collecting the myriad records the packers wanted to see.
"There was a lot of paperwork and documentation from the audits, and the farmers were getting overwhelmed," she said.
While most had this documentation, "not everyone had the greatest organization skills to keep it all in one spot." So she led workshops that showed them how to create a more efficient system.
Boelke is also the co-lead of the Women in Ag Network. The idea is to provide research-backed ag resources in an environment that brings together female farmers. They found that more women were becoming farmers — the 2017 Ag Census shows that 47% of Minnesota farms now have at least one female decision-maker.
"Times are changing," she says. "More women are stepping forward, wanting to take on a more active role on the farm.
What we wanted to do was teach women those skills and make them confident in what they're doing so they can be even more involved in the farm and be a part of those important business decisions."
Stepping into opportunity
Now that she's found a role that she loves, she would be the first to tell recent graduates to keep their options open. Yes, it's hard to identify your career path, "but you don't have to start college knowing exactly what you want to do," Boelke says. Identify your core area, and then take advantage of research projects, internships — any experiences that help you figure out what you like to do.
And don't forget: Agriculture encompasses many things. You don't have to live on a farm to pursue a meaningful career in agriculture, she says.
For more information on Minnwest Bank's #WomenInAg series, please see our related blog posts:
Women in Ag: Grain farmer brings the tech revolution to agriculture
Women in Ag: Secretary Kim Vanneman helps South Dakota forge its future in agriculture
Women In Agriculture: A family affair in taking on a niche crop
Women In Agriculture: Attorney makes case for creating a fulfilling career in an ag community
Women in Agriculture: Dana Engstrom discovers the thrill of the harvest
Women in Agriculture: Why Brooke Hoffbeck is saying yes to a career in agriculture