Saving enough for college can be daunting. Whether your child is in kindergarten or finishing their sophomore year of high school, it's hard to know how much to save in advance. When it comes to financing your child's college education, here are all the pieces that need to fall into place.
1. Start saving for your child's education
Make it a habit to save for your child's college education, whether it's $25 or $50 a month. Open a 529 savings plan, as historic market returns and the power of compounding interest can work in your favor. Even if this savings doesn't cover your child's entire college bill, it can at least reduce the need to borrow. (Since federal loans have borrowing limits, that's really important.) Even better, saving for college lets you enjoy triple tax savings: tax-free earnings, they're tax deductible on your Minnesota taxes, and tax-free withdrawals (as long as the money is used for education.)
Take some of the mystery out of how much you need to save for college with Minnwest's handy online calculator.
If your child is of working age, work together to figure out how much they should set aside. They can set up an automatic transfer to their savings account.
Learn more about Budgeting from crib to college: What every parent needs to know)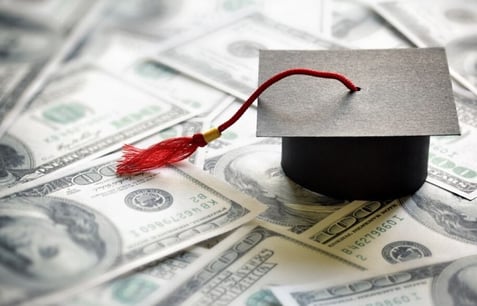 2. Search for student aid
Filling out the Free Application for Federal Student Aid (FAFSA) is a rite of passage for every parent of a high school senior. Once you complete it, you'll receive a Student Aid Report (SAR), which details which grants and work study programs your child might be eligible for. But you won't know until the colleges where your child was accepted send a financial aid offer.
You may think your family earns too much to qualify for student aid, but you may be surprised. Some 85% of full-time students received some form of aid in the 2015-16 academic year, according to the National Center for Educational Statistics. (Not to mention, FAFSA is the first step to applying for federal loans, so don't skip this step.)
Before you complete the FAFSA application, consider repositioning some of your assets. Paying down credit card debt or replacing the roof of your home slightly ahead of schedule can work in your favor when it's time to apply for student aid.
3. Pursue student loans
Once you tally up your child's savings, federal aid, grants and scholarships, there may be a balance that, chances are, would be covered by student loans of some kind.
Not all student loans are alike, which is why it's important to get familiar with what's out there, and what that means for your child's financial future. Here are the differences between federal loans and private loans.
Federal student loans
Direct federal loans are for students who have demonstrated they (along with their parents) can't fund their college education alone. Even if you think receiving aid is unlikely, you'll definitely be filling out the FAFSA application as step one to receiving federal loans. Here's what you can expect:
A fixed interest rate
No requirement of a strong credit history
Some are subsidized (meaning the federal government pays interest while your child is in school)
Repayments can be adjusted based on income, and some loans are eligible for forgiveness.
Set borrowing limits based on the year your student is in school.
Private loans
Once all other options have been pursued, the next and final stop is getting a student loan from a private lender. These are not based on need but credit-worthiness.
May have variable interest rates; if you get a great rate, verify with the lender whether it's fixed or variable.
Having a strong credit history could result in a lower interest rate.
There's a higher ceiling on borrowing limits, so these may allow your child to finance the rest of their education.
Not eligible for forgiveness and income-based repayment plans.
May need to pay interest while in school; ask the lender about deferrals.
Direct PLUS Loans
As an alternative to private loans, there's a federal loan program that lets parents borrow money on their child's behalf to pay for school. So if you don't like the idea of your child incurring massive debt, Direct PLUS Loans may be an option. Here's what to expect:
Fixed interest rates
A strong credit history is required
Has higher borrowing limits
You can pay the interest while the child is enrolled at least half-time, or request a deferment.
Not eligible for loan forgiveness or income-based repayment plans
While this takes the burden off the child, consider your financial future. Would repaying loans keep you from saving for retirement? Or could you make payments without sacrificing other financial goals?
Planning for your child's post-high school education is one of the best things you can do to get them off to the right start in life.
A savings account from Minnwest Bank can help your child get into the habit of saving for this all-important goal. Talk to a banker and set up an automatic transfer from their checking to savings, and they can watch their money grow.