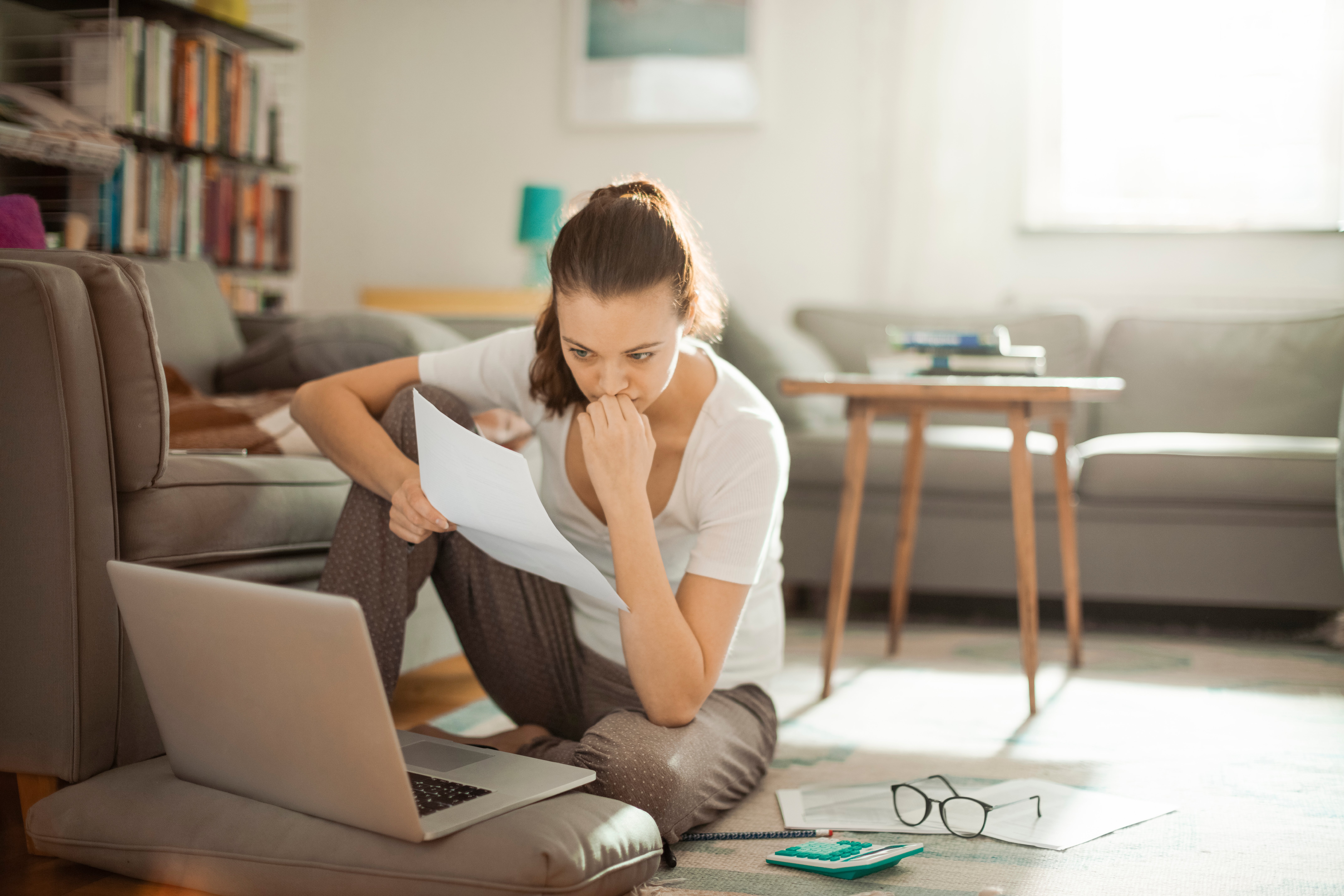 Were you recently laid off? Or maybe you experienced a change in income unexpectedly? This survival guide can help you keep your budget secure through any hardship.
As the late, great John Lennon put it, "Life is what happens to you while you're busy making other plans." These days, it's the rare adult that does not go through at least one financial crisis in their lifetime.
Whether you're hit with a layoff, a legal case or a five-figure medical bill, there's nothing quite like a crisis to derail your finances along with any plans you had to grow your net worth. These setbacks feel pretty lousy, they make you feel helpless, and it's hard to escape that feeling of despair and panic.
In fact, before we talk about anything else, do this first: Breathe. Just pause for a moment and keep your attention and focus on nothing but your breathing. How do you feel now? Don't worry, you'll get through this.
Unless you're one of those rare and admirable individuals who managed to sock away six months' worth of income, a devastating economic event can leave you feeling as if you're caught between a rock and a hard place. The first thing you'll want to do is formulate a plan. Your goal here is to take something of a business mindset to your finances.
Lowering your expenses and making sure you keep enough cash to cover the core essentials is the name of the game. Follow this checklist to get you started on your short-term financial survival plan.
1. Set your financial priorities
During a crisis, you'll want to come up with at least enough cash to maintain your family's basic needs: shelter, food, utilities and transportation. Make sure these get covered before you pay anything else. Sure, you can and should do things to reduce these expenses where you can. For example, to offset your grocery bill, cut coupons, download a rebate app and don't be afraid to seek help from community resources. (That's what they're there for.) Unplug the central air conditioner for the summer, and shop for cheaper rates on auto insurance. But don't sacrifice the essentials for other obligations. That means if paying your medical bills would subject you to foreclosure or eviction, or make you late on your electric bill, it's time to contact the clinic's billing department to see if another payment option is available. .
2. Hit pause on your debt reduction plan
Eliminating debt is always a worthy goal. But when you're faced with a cash crisis, it's time to put the brakes on that plan. For the time being, stick to the minimum payments until your financial situation improves. Even if you can afford to pay extra, stay focused on freeing up as much cash as you can. If you're lucky enough to end up with an extra $50 at the end of the month, save it. When money is tight, you may need it for something else.
3. Lower your retirement withholding's
Another major financial goal that could be stopped for now is retirement. If you (or your partner) are still having a portion of your income set aside pretax for a 401(k) plan, see if you can lower your contributions for now, or stop them altogether. Doing so will let you bring home a bigger paycheck until the situation improves.
4. Scour your bank statement for surplus spending
Eliminate inessentials from your budget. Go over your bank statements from the past three months and highlight the extras that can be cut. Canceling subscriptions, skipping restaurant meals and slashing recreation are all easy ways to reduce spending. Look deeper to find creative ways to reduce your monthly expenses. If your family can get by on one car, park one of the extra vehicles in the garage, and cancel the insurance for now. Trading your smartphone for an inexpensive flip phone can save money on monthly data fees. While each family's expenses are different, the main idea is to get creative and reduce spending temporarily.
5. Pursue loan extensions
Make a list of your loan payments, and find out if any are eligible for a short-term reprieve in the form of a loan extension or a forbearance — anything that lets you take a break from making monthly payments for a few months. Not all lending institutions offer this to borrowers, so if one says no, don't give up. If you have a long track record of making on-time payments, and you can make the case that you're in extenuating circumstances, your chances of success will be greater. It's better to make your financial difficulties known to lenders now than wait until you've fallen behind by 2-3 payments.
6. Think outside the box
One way to get extra money in a crisis is to find a part-time job, whether that means delivering pizzas on Friday night or picking back up a freelance gig on the side. Here are a few other ideas.
Unreported expenses: If you've fallen behind, collect those receipts, fill out those expense forms and turn them in to your employer for reimbursement.
Pre-tax withholdings: Make sure you're up-to-date on filing claims for your dependent care flexible spending account and other benefits where you may have to manually submit claims.
Tax returns: If you're getting a tax return this year, file quickly. If you're eligible for a property tax/renter rebate, remember, the only way to file is by printing, signing and mailing the forms to the state of Minnesota Department of Revenue.
Personal loans: No one likes feeling like the bad guy, but if a friend or family member owes you money, now's a good time to approach them for repayment. Tell them your budget can no longer accommodate the loan, so if there's any way the money could be repaid quickly, that would be of help to you. If it's more than what they can pay right now, see if they'd be willing to begin a payment plan.
Sell used goods or Items you no longer need: have a garage sale or simply use online marketplace sites like Craigslist or Facebook Marketplace. This can be a quick way to earn a little extra cash and make use of items you no longer need.

Unclaimed property:

This is a long shot, but you'll want to plug your name into this database maintained by the Minnesota Department of Commerce. If you're lucky, there may be a dormant bank account, unclaimed insurance, or old stocks and bonds in your name.
Cancel: If you've paid for a season pass, a gym membership, tickets, travel plans or an upcoming class, see if you can get a refund. True, some places will tell you the purchase is final, but press on to see if they'll work with you to return your money. After all, they'll want you to feel happy about coming back one day.
Weathering a personal crisis is not easy, and can be emotionally and financially draining. There's no magic solution that will solve all your issues, but the most important thing is to start planning now. Take the time to think through your money priorities. Starting with small budgeting changes will go a long way to help your peace of mind and ability to move forward with your life.
Whatever your circumstance may be, we have flexible account solutions to get your money on track today. See what Minnwest has to
offer today.