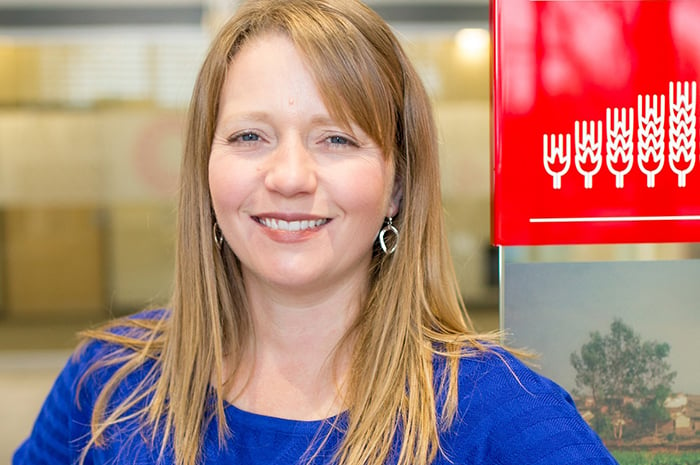 Jessie Alt's career as an ag research scientist can be traced to her childhood roots: the family farm near Wabasso, Minnesota.
There, her father cultivated grain crops and raised hogs, while her librarian mother sparked her interest in science.
"Growing up in the late '80s, early '90s, we didn't have the internet," Alt says. "So if I'm playing outside and have a question, Mom would bring home a book from the library."
The answer to that first question would cascade into more questions, more books, leading the young Alt down a path to discovery.
"If you think about science, it's all about asking new questions and finding the answer to those questions," Alt says.
Plant science unlocks new opportunities in the agriculture field
Alt has built a career out of searching for answers to a big question. How can plants be genetically improved to become tolerant of some of the things that block farmers from success: harsh weather, weeds, insects and fungus?
In high school, Alt joined the FFA and she's quick to give credit to her adviser for recognizing her aptitude for plants, and it was her supervised agricultural experience that opened her eyes to new career possibilities in agriculture, one that didn't take the traditional farm route. Alt earned her undergraduate degree in agronomy from South Dakota State University. Then from Iowa State University, she earned a master's in corn breeding and a PhD in soybean breeding. In 2005, Alt launched her career as a soybean breeder with Schillinger Seed, where she developed herbicide-resistant soybeans.
Two years later, she joined Pioneer Seeds in Algona, Iowa, where she helped transition the company's Cedar Falls, Iowa, soybean testing facility into a full soybean breeding program. In 2010, Alt moved to Dallas Center, Iowa, to lead the soybean breeding program. Finally, early this year, she was promoted to global wheat lead for Corteva Agriscience.
In Alt's work as an ag research scientist, the search for answers starts with a question and the place to find those answers is at farms like the one where she grew up.
Developing a new seed variety begins with having conversations with farmers. The seed company wants to know the top concerns of growers and what gets in the way of top yields. Weeds, weather, insects and fungus are just four forces of nature working against them. And because nature's work is never finished, seed development is never settled and final. There are always new questions raised by growers and new answers for the scientists to unlock.
Her quest to develop a seed with the right genetic traits that help farmers overcome their challenges is not a quick and easy process. Thanks to the intensive research and development that goes into a seed, it can take up to 10 years before it's available in the market.
To keep the research projects moving along despite the Midwest's harsh winters, seed companies like Pioneer develop winter nurseries in tropical locations. That's taken Alt to warm-weather destinations like Argentina, Puerto Rico and Hawaii.
"We grow corn and soybeans that are destined for Iowa 365 days a year, though they're not always growing in Iowa," she says.
It can be Christmas Eve, she says, but there's someone thousands of miles away monitoring and analyzing the development of their seed varieties.
Bridging the gap between ag and the public
Alt acknowledges there's a wedge, a disconnect, between the general public and those involved in the agriculture industry — including farmers and ag scientists like her.
"('Ag scientist') sounds unknown and off-putting, especially when you say, 'I modify plants,'" she says.
Which is why she'll readily accept opportunities to show others there's more to being a scientist than wearing glasses and a lab coat. For example, when she was at Dallas Center, she worked with local third-grade teachers to develop a program that would bring the community's 300 third-graders to the research center for a day. The young students could look at seed plants, go out into the field, examine bugs in the insectary, get a demonstration of the drone, and sit in the tractor and honk the horn.
They got an up-close look at the work that takes place right in their community along with some hands-on learning.
Alt is also the subject of a brief film by the American Seed Trade Association, which shows her at home with her two young daughters, at work in her extensive garden, and doing her field work as an agriculture scientist.
To her, openness and transparency are key to counteracting the misconceptions about agriculture. That can be as simple as chatting with fellow parents at her daughters' dance class, accepting formal invitations to present at conferences, or inviting students to visit the research center.
Coming full circle
Looking back on her work in soybeans, Alt can say she's had a positive impact on helping growers succeed. "I can't share numbers and acreages with you, but I've had a very successful program," she says.
She'd venture to say that many Pioneer growers in the Midwest have probably grown one of the soybean varieties she helped develop.
In fact, back at the family farm in Wabasso, it's come full circle for Alt. When she set out in her career, she hoped that one day her father would grow one of her soybean varieties in his field. And eventually, it did happen. She wasn't at liberty to reveal to him which soybean variety it was. But it was tremendously satisfying.
After all, farmers like her father had a problem, a question. And through science, intense research and many rounds of testing, Alt helped find the answer.
#womeninag