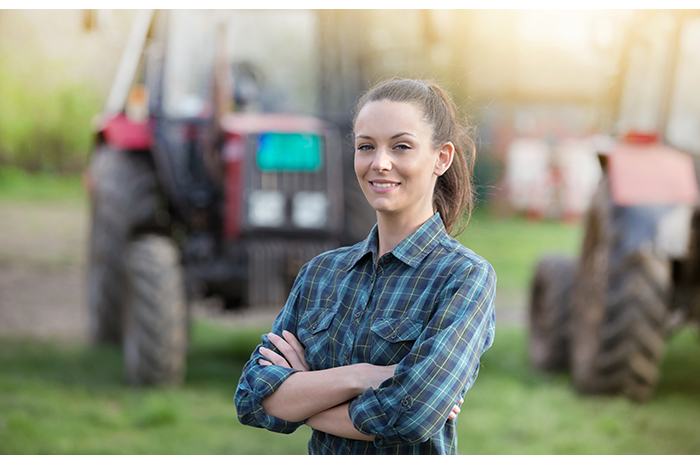 A note from Minnwest Bank: In celebration of International Women's Day (March 8), Minnwest Bank launched our Women in Agriculture series. As we interview various women within the agriculture sector, we'll share their stories on our blog. These women have built careers in agronomy, genetic plant science, education, nonprofit work, crop producing and agriculture lending. Our goal is to not only further strengthen our agricultural communities but also to highlight the unique stories of women in our communities and the impact they are having on agriculture.
Women have always played a huge role in agricultural operations, and today, they're becoming more visible.
Over three decades, the number of women-owned farms has tripled, according to a report by the U.S. Department of Agriculture. On the other hand, it's still very much a man's world: Of all farmers, 30 percent are women.
Agriculture offers endless opportunities for women who are interested in making a career of it. Whether you're getting ready to take over the family operation or starting a new business that's related to agriculture, this sampler of resources can help.
This USDA grant program offers matching funds for agricultural producers who are looking to generate new products or expand their marketing opportunities. This program offers planning grants and, as a supplement to loans, it also offers working capital grants. Visit Grants.gov to watch for the annual call for applications. Women applicants and other groups may be eligible for priority consideration.
For 45 years, this national organization has provided support, information and resources for women in agriculture. Explore their website, get connected with the state chapter, Minnesota Agri-Women, and put their annual conference on your calendar.
Connect and learn with the Minnesota Extension Service. This program offers research-based webinars and events around the state.
This nonprofit offers food producers a landowner outreach program, resources and programs about land and water conservation, conferences in the Midwest and more.
American Farm Bureau Women's Leadership Program
Get connected with training and education to become leaders and influencers in the agriculture community. Two key programs are the annual Women's Communication Boot Camp and the Our Food Link program.
Farming Opportunities Training and Outreach
This is a new program created by the 2018 Farm Bill. It merges two programs — The Beginning Farmer and Rancher Development program, and Outreach and Assistance for Socially Disadvantaged Farmers and Ranchers — but triples the funding. It's not yet clear what's available for grant and borrowing opportunities for individuals and organizations — stay tuned!
Read our inaugural Women in Agriculture blog about ag research scientist Jessie Alt, and keep checking in to read new stories. #womeninag