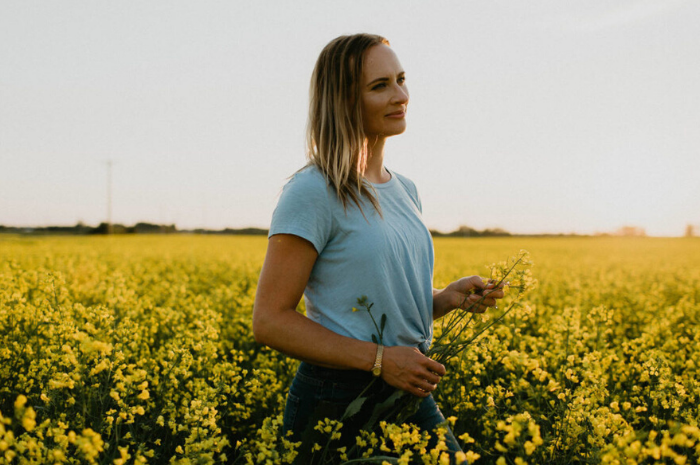 At the core of every farmer is an entrepreneur.
If she's lucky, that farmer will have one heck of a good idea.
If she's driven, she'll find a way to make the idea reality and put it out there for other farmers to try.
And if she's really, really lucky, other farmers will like it, too, because it fills a real need.
In the case of Lynn Dargis, a grain and cattle farmer with 4,200 acres in northern Alberta, her flash of entrepreneurial brilliance led to the creation of Farmbucks, an app that aggregates market data for Canadian grain. A couple of years ago, she was trying to sell wheat. Like any farmer, she wanted to grow a good crop and make money, she says. But the process has become complicated, at least in western Canada, where her 4,200-acre farm is located.
More grain elevators have gone up, and the market has become more competitive. So when it's time to sell, there's a plethora of data to wade through: premiums, discounts, grain qualities, all found on six websites and three apps presented in different formats. The full analysis requires a time commitment that farmers don't always have. For that reason, Dargis would find herself limiting her search for a buyer to her favorite website.
Two years ago, she found herself holding on to her wheat longer than expected. Her favorite website never came through with the right price, and she was too busy to take her search elsewhere.
When she finally could expand her search and find the right buyer, she thought of the hotel and airline sites that let travelers compare prices. Why couldn't the same thing exist for farmers, she thought, so they could see all the data in one place?
In March 2019, the beta version of Farmbucks launched. Since then, it's been eye-opening to discover just how many people are willing to support her. Farmers not only eagerly downloaded the app, but she also found mentors ready to help her grow.
While she can't divulge specifics, she said she's looking to develop the business and the brand, so it has a greater reach across Canada, and perhaps even the U.S.
"This keeps me motivated to keep going forward. It confirms that we're connecting the industry in a more modern way," she says. "The ag tech revolution is coming. The technology is already here, but ag has been a little slow to adopt."
"Every bushel counts"
Beneath Dargis's entrepreneurial spirit is a drive and hunger to survive and thrive. When you do what Dargis does, it's hard to avoid the facts.
"You can see all your money's sitting out there," she says in the documentary "Picture a Farmer," as she looked over undulating fields of canola. "You try to stay positive, knowing you are doing your best. That's all you can do. The rest is out of our control, and you have to accept that. I have over $1 million sitting in the field right now. It can make or break you.
"Every field counts. Every acre counts. Every bushel counts."
Look at Dargis's life, and you'll find that determination runs deep. Back in 2007, the farm was a different place. Her father and mother were at the helm. Dargis had recently returned to help on the farm, after graduating the year before from Olds College with a degree in Agriculture Production and Management. Like her four sisters, she grew up picking rocks, fixing machinery, driving tractors, caring for animals. Her life was continuing in that direction.
And then, one fall day, her parents and grandmother left to attend a cousin's graduation. She stayed home to take care of the animals.
"They didn't quite make it back home," she says, her voice quiet.
She was 20 years old.
Despite her grief, something mobilized inside Dargis. She decided to take over the farm, so she could honor and sustain her mom and dad's legacy.
"No one could change my mind," she says.
Thanks to her upbringing and education, she knew enough to keep things running: when to plant, when to harvest, when to move cattle to another pasture. But there were still gaps of knowledge to fill. Every day, something could break, interrupting work, forcing her to climb down from the tractor that had stopped in the middle of the field, setting off on a two-mile walk to find help.
"There will always be naysayers and haters, but you have to block that out," she says. "When you know you can do it, other people will see it too, and they'll help you."
Being put into this position gave her the confidence to make the best decisions for the good of the farm. That confidence gave her the grit to pursue a new business opportunity that became Farmbucks. Just like she learned never to concede a bushel, she knew she couldn't consign the app idea to the "someday" pile.
Farming is one of the most stressful jobs out there, but it's also one of the most rewarding, she says. She wouldn't have it any other way.
There's a satisfaction that comes from raising animals and putting seeds into the ground and watching that life cycle take over from the process she initiates. If she can build something that helps farmers become more efficient, even better. That gets to the heart of her entrepreneurial spirit.
"It's rewarding to produce something that's coming out of the earth," she says. "It's a feeling you don't get from an office job in the city. It's stressful, but it's very liberating at the same time."
For more information on Minnwest Bank's #WomenInAg series, please see our related blog posts:
Women in Ag: Secretary Kim Vanneman helps South Dakota forge its future in agriculture
Women In Agriculture: A family affair in taking on a niche crop
Women In Agriculture: Attorney makes case for creating a fulfilling career in an ag community
Women in Agriculture: Dana Engstrom discovers the thrill of the harvest
Women in Agriculture: Why Brooke Hoffbeck is saying yes to a career in agriculture