October is National Cybersecurity Awareness Month, a month dedicated to raising awareness of common fraudulent scams to look out for.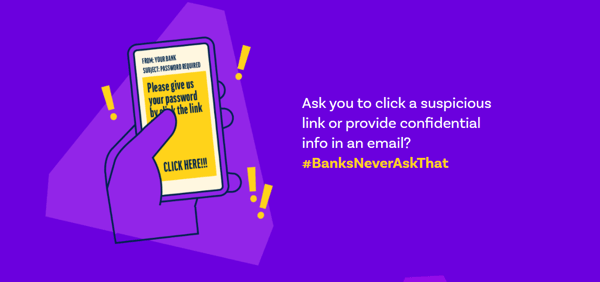 Every day, thousands of people fall victim to fraudulent emails, texts and calls from scammers pretending to be their bank. And through these times of expanded use of online banking tools, the problem is only getting worse. The American Bankers Association (ABA) is sharing best practices and protection tips this month with their #BanksNeverAskThat anti-phishing campaign. The aim of this campaign is to arm bank customers with the expertise needed to spot scams before they happen.
In the spirit of the campaign, Minnwest Bank has joined the American Bankers Association and other banks across the country to share some tips for protection. Online scams are not as scary when you know what to look for.
Banks Never Ask That:
Here are the top things to be aware of to be scam conscious and protect yourself:
Text message:

banks will never send you a text that asks you to click a link. Do not call the numbers they provide or click on links sent via text.

Email:

Your bank will never ask you to provide confidential information (your account number, SSN, name address, password, etc.) in emails or text messages.

Phone call:

scam emails, texts or calls may pressure or even threaten you to respond. Just ignore it and call your bank directly. If you're ever in doubt if a caller is legitimate, just hang up and call your bank. In the case of scammers, it's always best to be safe rather than sorry and if something feels off, it's likely off.
Look for Scam Tip-Offs:
You don't have an account with the company.

The email, text or caller is asking for account information, including passwords.

Grammatical errors or something just seems fishy or not right.
Protect Yourself:
Keep your computer and mobile device security software up to date and regularly back up your data.

Change your security settings to enable multi-factor authentication—a second step to verify who you are, like a text with a code—for accounts that support it.

Change any compromised passwords right away and do not reuse those passwords for other accounts.

Don't provide any information to anyone who calls or emails you out of the blue.

Stay current on scams, check out the FTC's scam site at

https://www.consumer.ftc.gov/features/scam-alerts

.
Report Phishing
Report it to the FTC at ftc.gov/complaint.

Forward phishing emails to

spam@uce.gov

– and to the company, bank, or organization impersonated in the email. You also may report phishing email to

reportphishing@antiphishing.org

. The Anti-Phishing Working Group, a group of ISPs, security vendors, financial institutions and law enforcement agencies, uses these reports to fight phishing.

Visit

Identitytheft.gov

. Victims of phishing could become victims of identity theft; there are steps you can take to minimize your risk.
For more tips on how to keep phishing criminals at bay, including videos, an interactive quiz and more, visit www.BanksNeverAskThat.com.