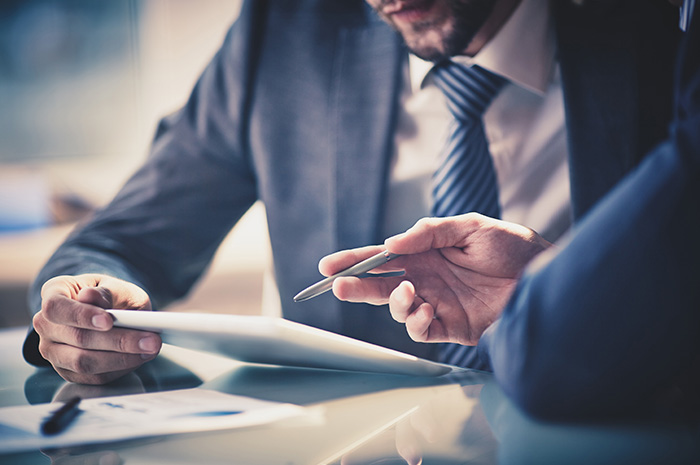 Fast, convenient online credit solutions hold allure for small- to medium-sized business owners, whether they're looking to expand or simply wish to access some working capital. Not only is the application and approval process completed in a matter of hours, the money lands in your account quickly — perhaps in a matter of hours.
For these reasons, an increasing number of small businesses are turning to these quick-turnaround solutions, with 24 percent applying in 2017 versus 21 percent in 2016, according to the Federal Reserve.
Before you click on that online application, it's worthwhile to weigh the pros and cons. What may not be obvious are the advantages of turning to local sources for your lending needs — your community bank. Here are just a few advantages of opting for a community bank loan over those seemingly convenient online sources:
A community bank has local ties: Just about everyone you come into contact with at your community bank lives and does business right in your community. Some play important leadership roles on local boards and in nonprofits. They have children who attend local schools. They shop at local stores. The organization itself may offer support to local causes and encourage employees to become active and volunteer at local events. Bottom line, a community bank cares just as much as you do about building your community.
Local expertise: Your community bank lender is an expert in what's happening with your state and local economy. With their help and support, you have a valuable resource when it comes to making big decisions about your business. They're also well versed in economic development resources that are available to small-business owners, including Small Business Administration lending, to help you grow.
Superior service: Community banks are renowned for their personalized customer service. In fact, these banks earned the highest ranking in customer satisfaction, according to the American Customer Satisfaction Index Finance and Insurance Report for 2018 — a running trend for the past several years. Top categories of customer satisfaction include: courtesy and helpfulness of tellers and bank staff, website satisfaction, speed of financial transaction and variety of services available (checking, savings, loans).
Steadier in the storm? In a time of economic recession, funding stress is one of the challenges that non-banking, high-tech lenders may not be prepared to meet, says a report in American Banker. Banks, on the other hand, with their steadier source of deposits, are better equipped to withstand these challenges. It's hard to predict what challenges related to a recession would mean for borrowers. But it's safe to say they can have a huge impact on customer service and other areas of your borrowing experience.
More competitive costs: The convenience of speed comes at a price. When you click on that online application, it's all impressively fast and easy, and the money appears in your account in a matter of hours. But beware, in exchange for the shorter timeline, you may pay the price in fees and interest rates compared to borrowing from a community bank. In the long run, how much of a difference would this speed make for your business? Is it worth the cost?
Whether you want to grow your business or just optimize your working capital, the lenders at Minnwest Bank can help you identify new possibilities. Bottom line, when you work with us, you're not just a customer, you're an important part of the community — ours as well as the one in which we both live and work.