Minnwest Bank now has a branch open in downtown Rochester! To celebrate, we're spotlighting a selection of amazing local nonprofits that make the world-famous Med City a great place to live, work and play, along with making a $1,000 donation. We're a Minnesota-grown business and we value the communities we serve. This is our way of saying we love working with this community of doers and we can't wait to grow our relationship.
The mission of the Rochester YMCA is all about building a healthy mind, body and spirit for all. A large slice of that is devoted to nurturing youth and teens and helping them meet their potential. Here's a quick look at some of the programs offered, according to Virginia Kaczmarek, Executive Director of the Rochester YMCA:
Summer youth camps
School age care for working families
State-of-the-art licensed child care for infants – preschool
Youth sports and swimming lessons
The organization also has plenty of family and adult-focused health and wellness activities including:
Personal training, group exercise and more at its fitness center
Adult sports
Active older adult programs
Kaczmarek, a 20-year vet with the YMCA organization, has served as Rochester's Executive Director for nearly two years. But unlike any other year, the events of 2020 have pushed Kaczmarek and her cohorts to think more deeply and creatively to keep the YMCAs mission going strong, while keeping people safe in a global pandemic.
Recently she read an article about how a high percentage of people who become sick or even die from COVID-19 have underlying health issues, and that's where it hit home for her.
"To me, that makes our mission even more important," she says. "It put a big spotlight on the importance of taking care of ourselves, the idea of self-care, of doing things to exercise and stay healthy."
Next we heard from Kaczmarek on what she is most proud of these days, and what's ahead for the Rochester YMCA.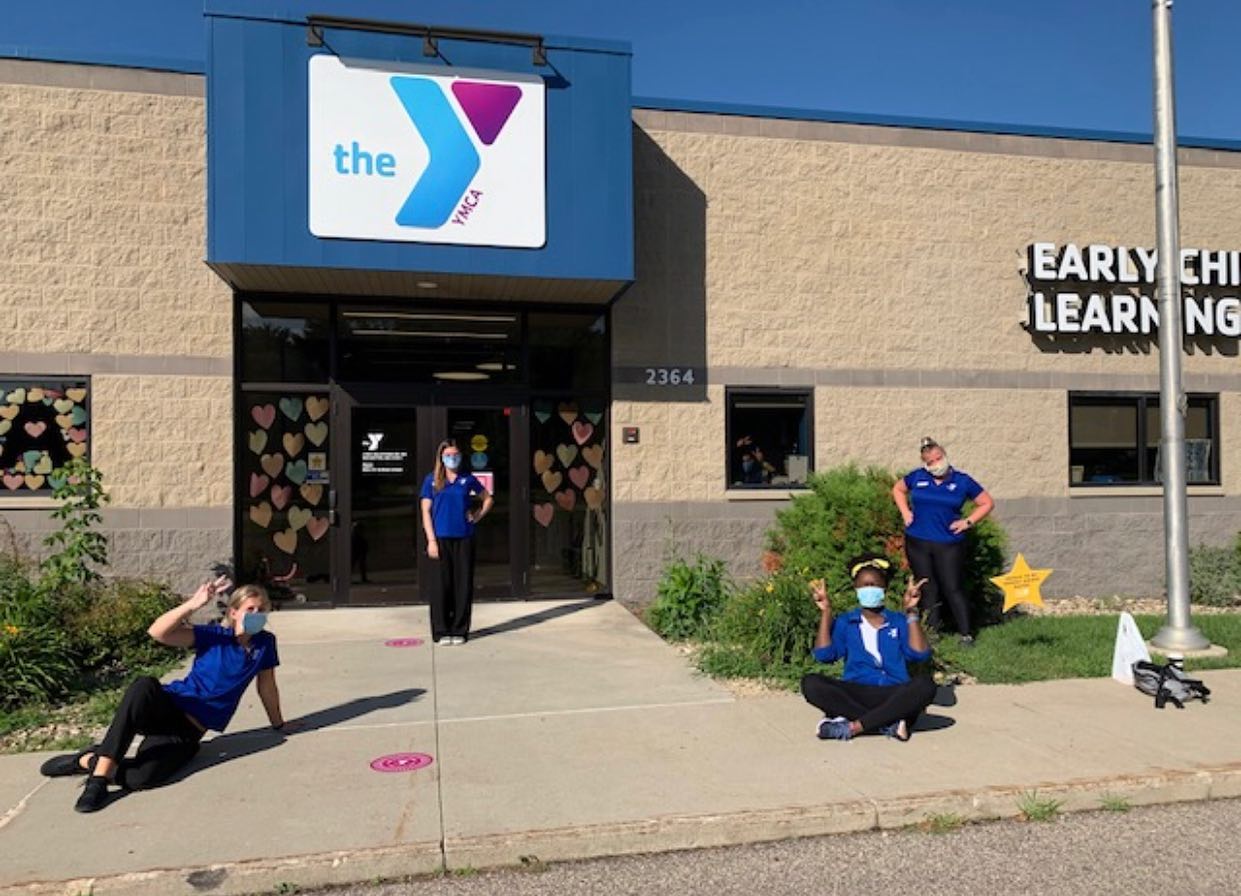 The school day re-imagined
In mid-March, when the world shut down, the YMCA had to pivot from their normal healthy living and youth development programs. They had to shift focus to ensure they were still creating a safe and suitable environment and providing school-age care site for children of essential workers. Kaczmarek joked that for the first time, she's glad the organization's in this "ginormous building" because it allowed enough space to safely run these programs by assigning small groups of kids to individual pods.
With the start of school in September, the Y is preparing to welcome back the kids of essential workers, by coordinating the school district, so the staffers can provide learning support during the school day.
"When you account for all the teacher and student needs, it's more complicated than you'd think," Kaczmarek says.
The Y is also providing scholarships, as most family budgets can't accommodate the novel expense of full-day care during the school year.
Fully-licensed child care
Kaczmarek also points to the opening of the Rochester YMCAs fully licensed child care facility, serving families of infants through school age. Through these past five months, the Y has continued to provide care for families of essential workers.
Connecting through virtual fitness
Because of the pandemic, the Rochester YMCA has pushed into the virtual world, finding unique ways to connect with seniors and community members to help them stay active, using Facebook Live, YouTube and recording and posting videos online. Even though the fitness center reopened in June, they plan to continue with these streaming options to help community members including our seniors stay in shape. They also developed and shared fitness videos for youth, so families and Physical Education teachers have access to fresh ideas to keep kids healthy and active.
Doers working together
Though Minnwest Bank is expanding its presence in Rochester with a flagship branch downtown, the bank and the Rochester YMCA have worked together for some time, as two managers at the bank have served as Y board members, Kaczmarek says.
"They've been great supporters of us and making sure we could meet our mission of supporting youth and healthy living," Kaczmarek says. "They've just been wonderful supporters of us."
The Ys "sweet spot" is making sure that income isn't a barrier to anyone who wants to enroll in all of our programs to include swimming lessons, day care, fitness and sports programs.
"We try not to turn anyone away," Kaczmarek says. "The team at Minnwest is fantastic at providing financial support and the volunteer hours to make sure everyone can participate if they want to. They're at the table, making sure we can make those things happen."
Rochester YMCA Services:
Where: To find programs and services available at the Rochester Y look here: https://www.ymcanorth.org/locations/rochester_ymca
How can people help?
Participation: Kaczmarek encourages anyone to take a tour of the Rochester YMCA facility, and decide if they feel safe and ready to get a membership. Click through to learn more about membership.
Volunteering: During the early part of the pandemic, the Y collected and distributed food to families in need. The Y is very slowly bringing back volunteers, so stay tuned for more information on how you can be involved in the future. .
Donations: The Rochester YMCAs annual campaign raises money to provide opportunities for youth, so they can have access to quality child care, swimming lessons and sports and so much more. One-hundred percent of your contribution will go toward supporting the families in the Rochester areas, she says. Learn more about the annual campaign and give today.