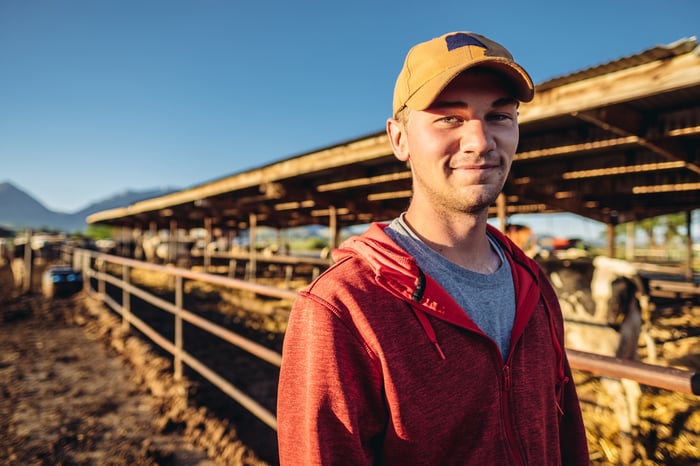 You're working toward something pretty huge, something that will shape your family destiny: You're back on the family farm, preparing for the day when you'll take over. Starting out as a producer can be intimidating, especially when you're working alongside Dad (or Uncle Bob or Grandpa) who has a Ph.D.-level knowledge of the land, best practices and marketing. How do you catch up to where they're at, and how do you get ready? The following will look at how education plays a role in your future, how to get familiar with farm finances, and some tips to make the most of your time of transition.
Farming 101: Should farmers get a college degree?
In the past, one became a farmer through the school of hard knocks. Only by getting out there and getting your hands dirty would you develop the skills to become an efficient and profitable farmer. To a degree, that's still true. But farming has seen a great shift in modernization across just about every area, making farmers of today far more sophisticated than the farmer of yore.
Better machinery means fewer demands on the body — one doesn't have to be male and strong to be a successful farmer. At the same time, these machines come with sophisticated technology, and it takes a savvy producer to identify which products would offer the best ROI (Return on Investment).
It takes larger herds to stay competitive, and that requires a more sophisticated knowledge about good nutrition and controlling diseases, all while maximizing productivity.
Selling crops at top dollar requires understanding their place in the global market and understanding what influences their fluctuations.
What is the best path for learning how to be a successful farmer? From a formal education standpoint, these are the three essentials.
Work experience: There are few careers that blend education and experience-based learning to the extent that farming does. Internships and apprenticeships are critical to your preparation, and for most farmers, that means working alongside your family members. Make the most of it!
A college degree: Whether you opt for a four-year bachelor of science or associate's degree, an ag program can give you the foundation any farmer needs to thrive in today's climate: advanced science, horticulture, economics and business management. As agriculture continues its evolution in the coming decades, that foundational knowledge will give you something to build on.
Continuing education: When you're running an operation, learning never ends. Ask any successful producer and they'll tell you that an "always learning" mindset is what keeps their skills and savvy sharp and relevant. Certificate programs offered by community colleges and universities can build your knowledge in an area of specialty, but keep an eye out for flexible options, including webinars, in-person classes hosted in your community, training and other learning opportunities. To aid with your learning journey, our list of resources for farmers includes several opportunities worth checking out.
Putting your farm in the best position for financial health
Farming covers many disciplines and subjects, but more than anything else, farming is a business. And to be a successful businessperson, you need to learn the basics to manage it.
Think like a CPA: Farmers wear many hats, which gives them a good foundation on many broad subjects. One of the best things you can do for yourself and your operation is to put in the time to build your accounting skills. As the margins become tighter, finding efficiencies and identifying what needs improvement is what will keep you in business. Balance sheets, income statements, depreciation, loans, expenses, profit-loss analysis, benchmarking and analyzing inputs are just a few of the measurements that are worth mastering, and you should plan on spending lots of time on these.
Create a business plan: As a producer, what are you about? What are your goals? What are you doing to achieve growth and remain competitive? Before you meet with an ag lender to talk about your next loan for a new machine, additional facilities or annual operations, you need to be ready with a realistic business plan that details how your operation will grow and thrive. This gives the lender the information they need to decide whether you're a good credit risk. Even if you're not at the stage where you're taking out loans, it doesn't hurt to start thinking about what your business plan would look like. When you have it, it will serve as your guide, your blueprint, your path forward.
Show your work: Perhaps a new tilling method shows promising results in healthier soils, or maybe you'd like to invest in a new technology. Part of the challenge of inter-generational farming is winning over the stakeholders, starting with convincing them to just hear you out. A willingness to evolve is certainly critical to your farm's future. But at the end of the day, most farmers are willing to make changes, as long as you make a great case for the ROI. Before you pitch the next big idea, put in the time researching how this change adds measurable value, increases efficiencies or reduces inputs. One day, when the farm's in your name, you'll be asking the same tough questions, so you may as well get used to it.
Transitioning: Practical tips for making the most of your apprenticeship
As you're working the farm and learning the ropes, how do you make the most of this time? The following are three things every transitioning farmer should be thinking about to prepare for the future.
Find a mentor: If you haven't experienced it already, one thing you'll discover is plenty of the people in the ag community will be rooting for you. If you connect with someone, whether it's a broker or some other professional, cultivate the relationship. Take that person out for coffee. Brainstorm topics you'd like to cover. Gather other perspectives and build relationships.
Keep the faith: That kind of sounds like it belongs on a throw pillow, but there's plenty of truth in there. You just might be smarter than you think. When you're getting ready to take on a family business that's been around since the 1880s, it's difficult not to feel the pressure. Farmers make tough decisions every day. The right answers are not always clear cut. That can be deeply unsettling and cause many sleepless nights, even for the most seasoned producer. That's where this time on the farm, working alongside your family member can be useful and help you become accustomed to the idea of uncertainty. Ask questions about how your mentors and family members arrived at their most mind-bending, gut-destroying decisions, and what they did to cope. As much as you can, be involved with the decision-making.
Build a good credit score: When it comes time to meet with a lender, a well-thought-out business plan is what will get you in the door. One thing the lender will be looking at is your credit history. This score looks at how you handled debt in the past, so they can make a reasonable prediction on whether you're a good credit risk. Paying bills on time, keeping your credit utilization ratio low, and being judicious about opening and closing new lines of credit are just three things that may result in a higher credit score and access to lower interest rates. See Napkin Finance's infographic on how to build good credit for reference.
Advocate for clear communication: Talk to any estate planning attorney, and they'll emphasize the importance of not only creating a transition plan, but also sharing the details to everyone who has a stake. This does include siblings who have no plans or interest in working the family farm. Tough decisions and tough conversations don't get any easier or more pleasant over time, and in some cases, delays can be damaging to family bonds. As much as you can, encourage the decision-makers to persevere through the challenging process, and offer support in forming a transition plan as well as informing family members.
It's an exciting time in your life, being a new producer and learning how to thrive and succeed in today's environment. As you grow into this role of a lifetime, remember there's a wealth of resources in your community you can turn to, including Minnwest Bank. As a preferred FSA and SBA lender in Minnesota and South Dakota, our experienced ag lenders can help you apply for the solution that fits your unique needs.
Our Agri-Business financial calculators are another resource to utilize as you're starting out as a young producer.