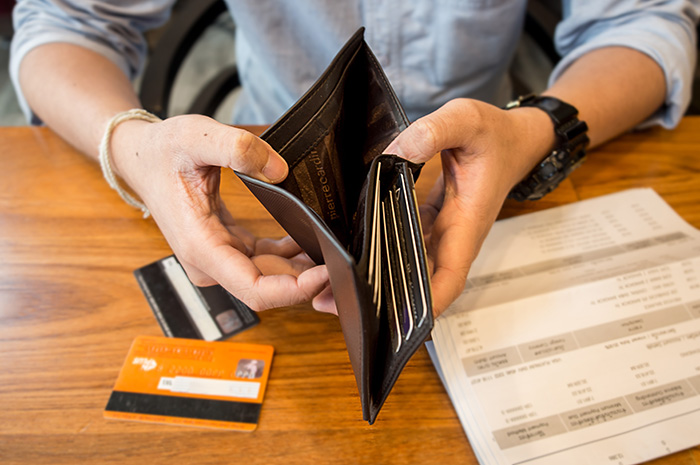 The holiday season is a swirl of activity. And all the extras of the month — gifts, merrymaking, travel, food, more gifts — may have you dreading the blizzard of bills in January (with very little cash in your account).
First of all, don't panic. Try our plan for last-minute savers to help you get focused and conquer your holiday budget.
Count what you have. How much spare cash could you withdraw right now, today? Be sure and leave enough for other bills coming up this month, like electricity, car payment and phone. At the same time, look for ways to pull back on discretionary spending, like coffee runs and takeout, and use this for holiday expenses. Think about what's coming in between now and the end of the month and how much you can comfortably set aside.
Make a list and check it twice. Of course, you'll want to make a gift list and figure out how much you should spend (or have left to spend). That's a great start. Don't overlook the gatherings and events you're attending, because those often have hidden expenses. Identify these and make an estimate. For example, if you're driving across the state to your aunt's, then your budget may include an extra tank of gas, a platter of food for the potluck and a white elephant gift.
Tally it all up. Add up your expenses — this is your holiday budget. If you know for sure it would put you in the hole, you now have three options: Scale back, find more cash or do a combination of the two.
Grab a quick side hustle. Fortunately, this is the time of year when many businesses and individuals need extra help and are willing to pay for it. Grab a quick part-time job, or hop on your community's social media feed and sell your services for holiday help, like hanging decorations, wrapping presents, housecleaning and pet sitting.
Cut the clutter. Narrow the gap by rethinking your priorities. For example, a big expense like airfare for the visit home may leave very little for anything else. Take the pressure off and reduce your gift budget. (Besides, isn't the point of the holiday season to make memories and spend time together?)
Be deal-minded. For whatever expenses remain, get creative about slashing dollars any way you can. This is the season for discounted gift cards, so be sure and pick some up for yourself and go shopping. Hopefully, you can find some sales and coupons and stack the savings. For the potluck, opt for homemade treats and dishes instead of buying the prepared version. Being an accomplished savings sleuth adds up to some real dollars and cents!
Get a head start on 2018: Set up an automatic transfer to savings with each paycheck, and when next December rolls around, you'll have a happier holiday with money in the bank! With Minnwest Bank's Automatic Savings, you can start with as little as $25 a month and avoid the service fee. Contact a Personal Banker today.
Last Updated: December 08, 2017