Women in Agriculture: Ag lenders find meaning in role as farmers' trusted adviser
05/13/2019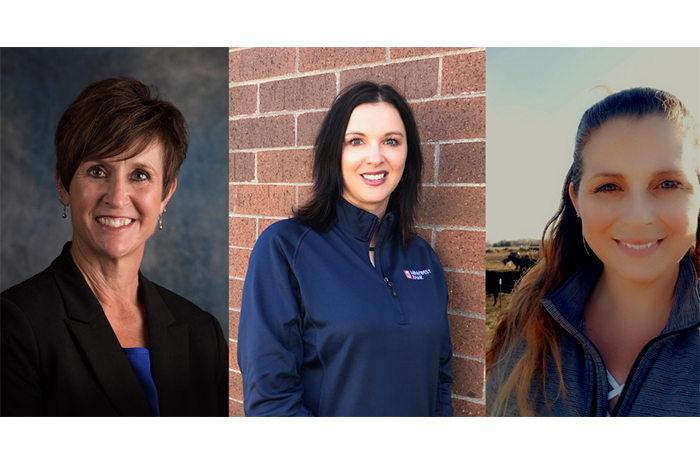 To Darcy Carlson, being an ag lender is like being the glue in the farmer-bank relationship. Through her, the farmer gains access to the capital needed to begin a planting season, raise livestock or make a large purchase, such as land or machinery.
Seeing the success of the producers that she works with, and knowing the role that she played as their lender gives her a sense of satisfaction.
Carlson, along with her fellow ag lenders at Minnwest Bank, Mary Squires and Tessa Rolfsmeier, have all come up in their careers with deep roots in the agriculture world. (Carlson and Squires are both based in the Tracy branch, while Rolfsmeier serves customers out of the Ortonville location.)
All three were raised on farms or ranches adjacent to small towns.
They grew up doing chores.
Like many children who grew up in rural areas, Squires and Rolfsmeier joined both 4-H and FFA, while Carlson was active in 4-H.
That meant at county fair time, you found them leading sheep or cattle into the arena.
Yet, when graduation rolled around, it was difficult for any of them to envision a future on the farm. But that didn't mean the door was closed on agriculture. Their college education came together with their family experiences, opening new avenues in agriculture.
As Carlson grew into her role as an ag lender, and eventually, market president, her family experiences were key to building trusting relationships with customers. Especially back in the early 1990s when she first began working with clients and prospective clients who were from different generations than she was. These farmers were simply not accustomed to seeing a woman in the lender's seat.
While the bank always had her back, Carlson also worked hard to win trust and build her reputation. She made the extra effort to visit farm sites. She put in the time to build her expertise. Above all, her aim was always to prove on paper and through the relationships that she is a trusted adviser to farmers.
"People are very welcoming," Carlson says, "but they can detect if someone isn't being honest or if they aren't being genuinely knowledgeable."
At the end of the day, trust is paramount in the lender-farmer relationship.
Squires says as ag lenders, they know confidential details of people's finances that others outside the family aren't aware of.
"As we maintain and grow those relationships, you become a trusted financial adviser."
Trusted adviser. That's how they see their role as ag lenders. Not "partnership," a term casually bandied around in many business arrangements. Here, partnership doesn't fit. Because the ag lenders don't choose how to proceed and when to market, or how to handle the day-to-day responsibilities on the farm; these things rest solely on the farmers.
But as ag lenders, they help farmers understand the possible financial outcomes of their decisions. They also help them get a firm grasp on their break-even points, and offer practical suggestions to reduce costs and boost profits.
For example, "A lot of my portfolio is beef and cow/calf," Rolfsmeier says. "We talk about nutrition, rations, saving money. A lot of the topics we talk about are direct links to how profitable a customer can be."
What complicates the relationship is the cyclical nature of the agriculture business. After several years of depressed commodity prices, the lenders acknowledge that's starting to take its toll on the farmers.
"A lot of times, when customers come in, you almost need to give them a morale boost," Rolfsmeier says.
But lenders also have to be realists. There may be times when the lender has to have a difficult conversation with the farmer. But the goal of these tough discussions is always about helping farmers succeed in the long run.
"It's not easy having difficult conversations, because your natural inclination is to want to help them reach their goals for their farming operation," Squires says.
"But there's no magic answer. Every operation is different," Carlson says. "There's not any black and white box to check. It's working with each operation and tailoring solutions for them. They have to buy into it. They have to make it happen. We're here with suggestions."
Ag lending is a rewarding career. It lets them raise their families in a small community, which Carlson says is a wonderful environment for kids. The three lenders agree they like being part of an organization like Minnwest, which supports the community's ag programs and encourages employees to become active citizens.
"As lenders in the community, we usually have customers with kids in 4-H," Roslfmeier says. "We'll attend the local ribbon auction and purchase ribbons as a way to keep the ag community alive and going."
For young people who are interested in pursuing a career that's related to agriculture, the financial industry has many opportunities. As with many other fields, ag finance needs more young people coming up in the ranks.
Ag business is a "good general degree" that can open many doors for someone who wants to pursue an ag-related career, but not necessarily farm, Squires says.
"A degree shows a future employer that you are willing and able to learn," she adds. "You can get all the job training that you will need when you get in the door."
In celebration of International Women's Day (March 8), we at Minnwest Bank launched our Women in Agriculture series. As we interview various women within the agriculture sector, we'll share their stories on our blog. These women have built careers in agronomy, genetic plant science, education, nonprofit work, crop producing and agriculture lending. Our goal is to not only further strengthen our agricultural communities but also to highlight the unique stories of women in our communities and the impact they are having on agriculture.
Read our inaugural Women in Agriculture blog about ag research scientist Jessie Alt, and keep checking in to read new #WomenInAg stories.
Share
Email
Print
View all posts